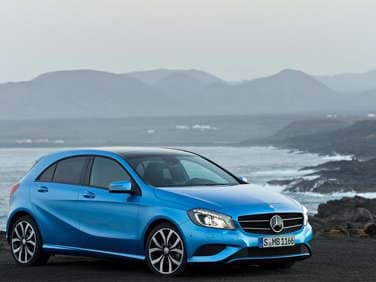 Mercedes-Benz will soon be braving the premium compact segment in the United States with a redesigned version of the Mercedes-Benz A-Class. According to a report in the Automotive News, Mercedes-Benz intends to make a four-door hatchback A-Class model available to American shoppers in 2014 as part of a new family of small cars intended to broaden the automaker's customer base.
The last time Mercedes-Benz offered a small vehicle across the Atlantic was the C-Class hatchback, a model which suffered from consumer apathy as well as poor reliability ratings. Mercedes-Benz currently offers the subcompact B-Class hatchback in Canada, but it has been reluctant to introduce that model to the U.S. due to fears that doing so might dilute the brand's luxury image. This hesitant attitude has been pushed aside by the rising number of small luxury cars being offered Stateside by direct competitors such as BMW and Audi, as well as the perceived need to provide buyers with more efficient options.
The Mercedes-Benz A-Class hatchback that rolled out this week in Geneva was an eye-catching model that takes a more aggressive approach to the entry-level luxury field than might be expected from the premium car company. The new A-Class is lower than the model it replaces in Europe, and it also offers styling that is closer to the range-topping SL-Class than the boxy, van-like A-Class of years past. Euro customers will be able to chose from Urban, Style and AMG Sport trim levels, each offering a variety of different equipment groups and varying degrees of exterior flourish.
Under the hood, it seems unlikely that U.S. showrooms will see either of the turbodiesel engines that make up half of the Euro-market A-Class' drivetrain lineup. Instead, the A-Class will probably arrive bearing a 2.0-liter, direct-injected four-cylinder engine that generates between 150 and 211 horsepower. An automatic engine start / stop feature helps to improve fuel mileage for the A-Class, while transmission choices could include a six-speed manual and a seven-speed dual-clutch automated manual.
Mercedes-Benz hinted at the possibility of an all-wheel drive version of the new A-Class, although this seems as though it would drive the price of the hatchback past the point of comfort for U.S.-based clients. Several different suspension modes are available with the car, and the compact automobile also features Collision Prevention Assist as standard equipment. This feature makes use of forward-looking radar in order to detect rapidly approaching objects in the roadway ahead and prepare the braking system for maximum performance.