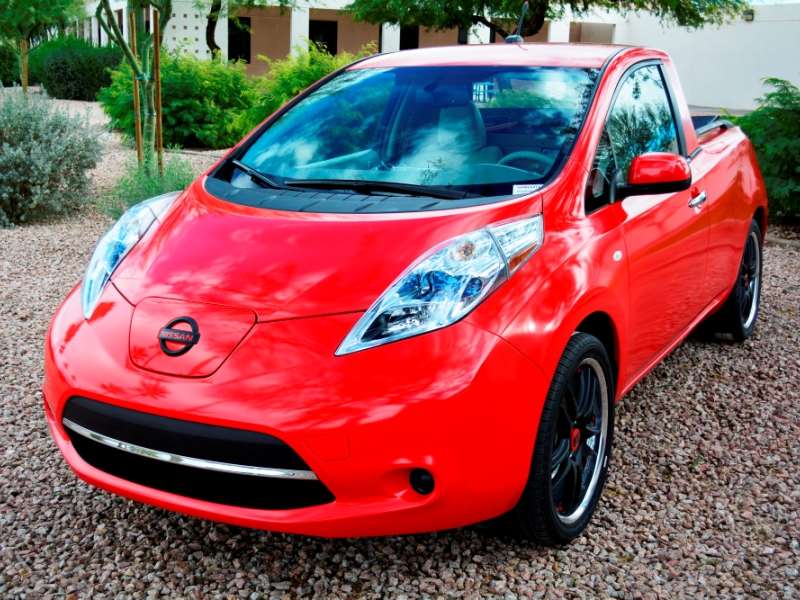 2015 nissan leaf frontier
What happens when you cross a 2015 Nissan LEAF EV with one of Nissan's Frontier small pickups? It turns out that a quick visit to the automaker's technical center in Stanfield, Ariz., can provide the answer. There, Roland Schellenberg had been faced with a bit of a problem.
"I needed a project for a team-building activity," reported Schellenberg, who works on durability and reliability issues for Nissan. But additionally, "We had a need for a truck. Something to drive around, a shop truck."
So, making the only logical move, he teamed up with colleague Arnold Moulinet to integrate the cargo bed from a Frontier into a 2015 Nissan LEAF. The result: A one-of-a-kind Nissan that is affectionately known as "Sparky" and now patrols the 3,050-acre campus as a support vehicle.
Added Schellenberg: "We tried to keep it a secret ... but we have visitors and they come and they see that truck and they go straight to 'what is it?'"
Unfortunately, they won't be able to go straight to a dealership to get a 2015 Nissan LEAF pickup anytime soon, since there are no current plans to put such a vehicle into production. But from a brand that used to sell a convertible crossover—in the form of the Murano CrossCabriolet—you never can tell what the future may bring.