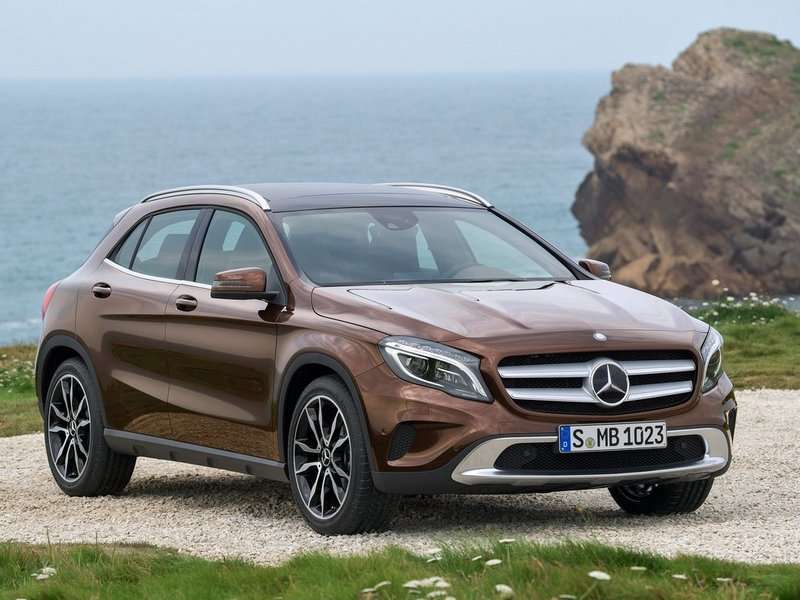 Although it won't land in U.S. dealerships until the fall of next year, the brand-new 2015 Mercedes-Benz GLA-Class should represent a strong entry in what's shaping up to be a very competitive vehicle segment. Like the BMW X1 and Audi Q3—and perhaps the Buick Encore—the M-B GLA will be looking for customers in the compact premium crossover segment, and come to market with a length of 173.9 inches. To put that into context, it's a noticeable 4.2 inches shorter in length than a Ford Escape; on the other hand, it fits right in between the other Teutonic twosome, as the X1 is a longer 176.5 inches and the Q3 measures 172.6 inches.
The 2015 Mercedes-Benz GLA-Class is then wrapped in a nicely handsome design that combines cues from both the sedan and SUV sides of the business, again sort of splitting the difference between the somewhat station-wagon-y BMW and the more upright Audi.
From a mechanical standpoint, and complementing M-B's positioning of the vehicle as an "SUV," the 2015 Mercedes-Benz GLA-Class will be the first vehicle from the automaker to boast the next-gen 4Matic permanent all-wheel-drive technology, backed by fully variable torque distribution. Driving all those wheels will be a 2.0-liter, 4-cylinder engine that's been boosted to make 208 hp and 258 lb.-ft. of torque. Mercedes is claiming that will push the GLA250 4Matic from 0-60 in 6.4 seconds and enable a top speed of 145 mph. A front-wheel-drive version will follow, early in 2015, with both packing a seven-speed dual-clutch automatic.
2015 Mercedes-Benz GLA-Class: Highlights
While today's premium automakers continue to downsize their offerings, they also know that a key to attracting customers is NOT to downsize the available range of lux amenities. Thus, the 2015 Mercedes-Benz GLA-Class will dig deep into the automaker's goody bag for features including:
A variety of media/connectivity/navigation resources, highlighted by the automaker's comprehensive COMAND system with voice control
Advanced driver-assistance systems collision-mitigation braking, M-B's ATTENTION ASSIST drowsy-driving alert, lane-keeping technology, parking assistance, blind-spot alert and adaptive cruise control
Mercedes' cloud-based "mbrace2" telematics service
Front sport seats with integrated head restraints
Premium cues such as a panoramic sunroof, power liftgate, ambient lighting, 18-inch wheels, LED daytime running lamps and chrome roof rails
Providing the party line is Dr. Joachim Schmidt, executive vice president of Sales and Marketing for Mercedes-Benz cars, who relates that: "With the compact GLA we add a fifth attractive SUV variant to the Mercedes-Benz model portfolio in this constantly growing segment. The GLA impresses mainly with its progressive character and agile handling. So I am very confident that the GLA with its fascinating design and high everyday practicality will fill many new customers with enthusiasm for the Mercedes-Benz brand."
Further details about the 2015 Mercedes-Benz GLA-Class will be released in the future, and the vehicle itself is scheduled to make its public debut at the International Motor Show in Frankfurt, Germany, in September of this year.