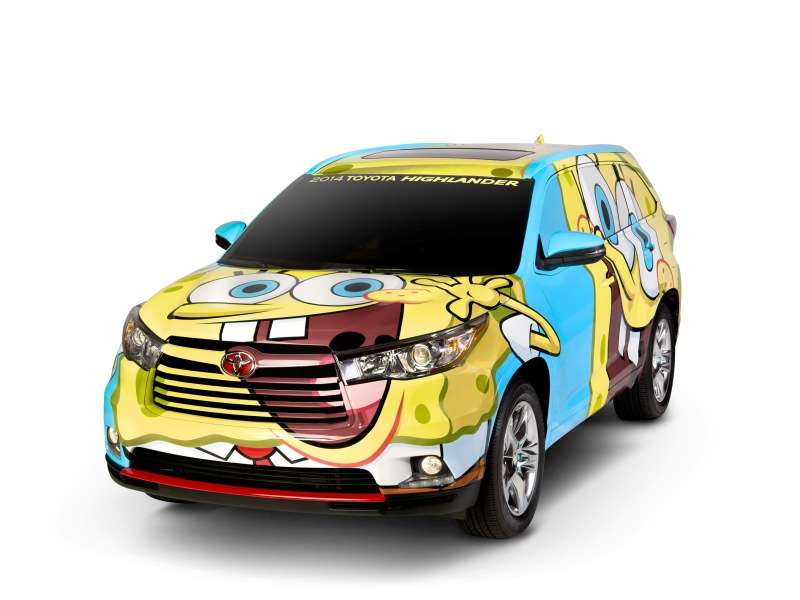 You know you have hit the big time when an automaker does a very special edition of one of their vehicles. That's the case with Spongebob Squarepants. Nickelodeon and Toyota have partnered up and created the first SpongeBob SquarePants-inspired vehicle.
The 2014 Spongebob Squarepants Toyota Highlander made its official debut at last weekend's Padres vs. Giants game in San Diego, California . The Highlander features a custom exterior and interior that captures the essence of this very iconic character.
"We are thrilled to partner with Toyota to produce this truly unique SpongeBob SquarePants-themed Highlander. Through the 'Happy Driving!' program, SpongeBob fans across the nation will have a chance to interact with SpongeBob in a whole new, four-wheeled way," said Pam Kaufman, Chief Marketing Officer of the Nickelodeon Group.
The Spongebob Squarepants Toyota Highlander will take part in the "Happy Driving!" campaign that will have the vehicle traveling to seven different locations that will include meet-and-greets, photo opportunities, a prize wheel, airbrush tattoos, and interactive areas where kids can create a SpongeBob GIFs that can share on the internet.
The "Happy Driving!" campaign will also have a dedicated website at www.nick.com/highlander where fans create their own design for the Highlander, play games, download SpongeBob branded printable games and coloring pages, and enter to win a new 2014 Highlander.
The "Happy Driving!" campaign will be making stops at these following locations:
July 19-21: Artscape Festival, Baltimore, Maryland
August 2-4: Nickelodeon Suites Resort, Orlando, Florida
August 9-11: Nickelodeon Universe at Mall of America, Minneapolis, Minnesota
September 7-8: SpongeBob Shellabration, Hollywood, California
September 15: NASCAR Sprint Cup Series at Chicagoland Speedway, Chicago, Illinois
September 27-29: Eat Real Festival, Oakland, California
November 30-December 9: LA Auto Show, Los Angeles, California