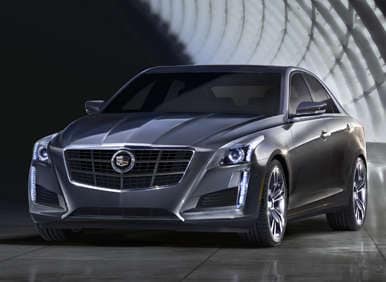 There's much to digest in the press materials for the all-new 2014 Cadillac CTS, but perhaps the most impressive tidbit just may be this one: "It is expected to be the lightest car in its segment."
That alone lets you know the kind of effort Cadillac put into reinventing the car, which, as an FYI, now tips the ol' scales at 3,616 lbs. At that point, the 2014 Cadillac CTS is 244 lbs. lighter than the 2013 model, and that's despite also being 5 inches longer; more significant is the fact that the Cadillac also undercuts its German rivals across the board, with advantages of 209 lbs. against the Mercedes-Benz E-Class, 198 lbs. versus the BMW 528i, and 110 lbs. as compared to the Audi A6.
The lighter-weight construction pays immediate dividends in performance, too. Not only is the 2014 Cadillac CTS a full 1.5 seconds faster from 0 to 60 than its predecessor, achieving the sprint in 6.1 seconds, but it also benefits from a bump in fuel economy, to an expected 19 mpg city/30 mpg highway. Of course, the new standard powertrain helps in all those measures as well, since the starting engine in the 2014 Cadillac CTS is now a 2.0-liter, 4-cylinder turbo that makes 272 hp and 295 lb.-ft. of torque.
The price of admission does rise a bit, yet the bottom line here is that the 2014 Cadillac CTS fits right in with that previously mentioned Teutonic trio, with the MSRPs for the entry models going as follows:
2013 Audi A6—$42,200
2014 Cadillac CTS—$45,100
2013 BMW 528i—$47,800
2013 Mercedes-Benz E350—$51,900
 Note: The E-Class doesn't offer a (smaller) standard engine that is directly comparable to what you get from the other entries.
2014 Cadillac CTS: Quick Spec Check
The party line as regards the 2014 Cadillac CTS comes from David Leone, executive chief engineer for the car, who reflects that: "CTS has always been Cadillac's centerpiece, and as our brand expands and elevates the car properly grows to its true place. With last year's addition of the award-winning ATS compact luxury sedan, CTS will directly challenge the luxury midsize competition with uncompromised performance, luxury and technology."
Thus, standard features in the 2014 Cadillac CTS are highlighted by the brand's CUE connectivity and infotainment system, which offers natural voice recognition, an 8-inch touchscreen that can recognize tablet-like controls and gestures, and Bluetooth connectivity for hands-free calling and audio streaming. Premium audio is standard as well, thanks to an 11-speaker Bose setup with HD Radio capability and multiple USB ports, while some fairly sophisticated performance enhancers are included, too.
For example, the front brakes on the 2014 Cadillac CTS are from the experts at Brembo, and they feature ferritic-nitro carburizing for expected best-in-class stopping performance. And while Cadillac's Magnetic Ride Control suspension technology isn't standard right out of the box, it is included on base models that are upgraded to 18-inch wheels.
Cadillac also will offer a full suite of further luxury, safety and performance upgrades for the car, complemented by two additional powertrains: A naturally aspirated 3.6-liter V6 and a similarly sized twin-turbo unit. The former will produce 321 hp and 275 lb.-ft. of torque in the 2014 Cadillac CTS, which will be priced at $52,775 with that engine. The latter will be the brand's first powerplant with twin turbochargers, delivering 420 hp and 430 lb.-ft. of torque in the 2014 Cadillac CTS VSport—stickered at $59,070 and also leveraging an eight-speed automatic transmission and limited-slip differential.
The 2014 Cadillac CTS is scheduled to go on sale this fall.