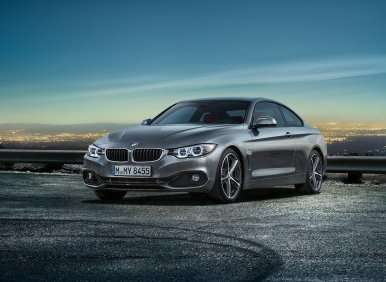 As BMW continues to refine its naming strategy—using even series numbers for coupes and odd numbers for sedans—the brand is about to cross a major symbolic milestone by swapping out the 2013 BMW 3 Series Coupe for the all-new 2014 4 Series. Now, the party line here is that "the new 4 Series Coupe represents something more than its BMW 3 Series cousins," and in this case, those words are literally true: As compared to its 3 Series predecessor, the 2014 BMW 4 Series Coupe is:
1 inch longer, with a total length of 182.6 inches
1.7 inches wider, at 71.9 inches
.6 inches shorter, for a height of 53.6 inches
But at the same time, the wheelbase of the car is 2 inches longer, and it also features significantly wider front (+1.8 inches) and rear (3.1 inches) tracks, as well as a lower suspension; as a result, the 2014 BMW 4 Series Coupe has the lowest center of gravity in the BMW car lineup. So, unsurprisingly, the Bavarians' new sport coupe is expected to showcase the brand's traditional "Ultimate Driving Machine" reflexes, aided by a choice of two powerplants.
The 2014 BMW 428i will be fitted with a 2.0-liter, twin-turbocharged 4-cylinder engine that deploys 240 hp and 255 lb.-ft. of torque, enough to propel drivers from 0-60 in a mere 5.7 seconds. With 300 hp and a similar number of lb.-ft. of torque, the 2014 BMW 435i upgrades to a 3.0-liter Twin Turbo V6 and slashes its time in the 0-60 sprint to a low of 5 seconds with a standard eight-speed automatic sport transmission or 5.3 seconds with the six-speed DIY unit that is a no-cost optionAlso in the mix from the powertrain department:
Fuel-economy enhancers like auto stop/start, brake-energy regeneration and an ECO PRO driving mode that combine for superior efficiency performance
SPORT/SPORT+ driving modes that deliver sharpened responses from key vehicle systems
BMW's xDrive intelligent all-wheel-drive technology, available for both the 428i and 435i
2014 BMW 4 Series Coupe: Some Details
Designers also have further evolved the look of the 3 Series in creating the latest BMW coupe, with notable efforts to streamline the overall shape and the addition of unique front-end cues. Prominent among them: Larger lower-front air intakes and two aero elements that BMW calls Air Curtains and Air Breathers. Designed to improve airflow and reduce drag around the front wheels, they help decrease the coefficient of drag of the 2014 BMW 4 Series to a slippery 0.28.
The cockpit relies on a layered approach to design that "gives the cabin a driver orientation without excluding the front passenger." But even in a space dominated by premium materials, there's also a surprising level of versatility. The rear seatback of the 2014 BMW 4 Series features a 40/20/40 split, for example, allowing different a number cargo configurations, while the trunk also takes a page from the Ford playbook and can be opened automatically with a kicking motion beneath the rear bumper.
Naturally, drivers will be able to customize the 2014 BMW 4 Series through the brand's Sport Line, Luxury Line and M Sport programs, as well as enjoy standard and available features like:
BMW Assist for 10 years of access to eCall services with enhanced automatic collision notification and vehicle diagnostics
The latest iteration of BMW's infotainment and connectivity system—iDrive 4.2
Enhancements to the available BMW navigation system, which now includes a touchpad, Google search for points of interest, and Advanced Real Time Traffic Information
A high-resolution Head-Up Display
Safety measures such as BMW's Active Driving Assistant collision-mitigation system, adaptive cruise control, intelligent LED headlights, parallel-park assist, and 360-degree bird's-eye-view display technology that remains active at speeds of up to 12 mph
Pricing? Well, that's another area in which the 2014 BMW 4 Series Coupe will outpace the current 3 Series. MSRPs for the BMW 428i start at $41,425 and $43,425 for rear- and all-wheel-drive models, while the BMW 435i is stickered at $46,925 and $48,925, again depending on how many wheels are hooked to the engine. (All prices include destination and handling; deliveries are expected to begin this summer.)