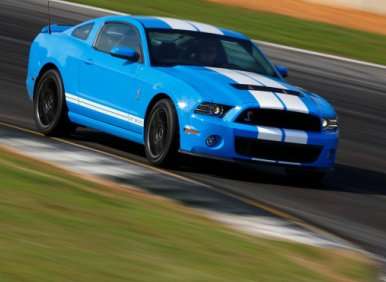 Call it continuous improvement in action: After reshaping the Ford Mustang's design for the 2011 model year and reinvigorating its powertrain lineup for 2012, the Blue Oval is now pushing the envelope once again with a comprehensive upgrade for the entire 2013 roster—from the Mustang V6 all the way up to the Shelby GT500.
"The new Mustang is the perfect example of continuing to build on excellence. It takes the greatness of the 5.0-liter and V6 and pushes the refinement to the next level," said Dave Pericak, Mustang chief engineer. "The car has been spot-on functionally and now we're adding more features and technology to further improve the driver's experience."
Drivers can expect the 2013 Ford Mustang to begin arriving in dealerships in the spring of 2012.
2013 Mustang V6/Mustang GT
Particularly notable among those features and technology is Ford's six-speed SelectShift Automatic transmission, now showcased on the Mustang V6 and GT models with an automatic gearbox. (A proven six-speed manual remains the standard transmission throughout the Mustang lineup.) The innovative SelectShift cog-swapper offers drivers the ease of use of an automatic or, with a single push of a button, the same kind of control as a true manual transmission—but without the kind of forced override functionality that dogs similar systems on many Mustang rivals.
"This lets owners take an automatic out on a track day or whenever they want to drive sportier, and lets them have the convenience of switching to manual control," said Tom Barnes, Mustang vehicle engineering manager. "It's a significant improvement to our powertrain offerings that lets the driver take control."
The 5.0-liter V8 that slots beneath the hood of the Mustang GT has been upgraded as well. Leveraging their experience with the high-powered Mustang Boss 302, engineers were able to coax an extra 8 horses out of the GT's engine, which has been promoted to a full 420 hp for the new model year.
Other important enhancements to the 2013 Mustang V6 and GT family include:
• A new GT Performance Package for manually transmissioned Mustang GTs with the 3.74 rear axle ratio. This setup tunes the GT for superior track performance by adding an engine cooler, upgraded radiator, performance friction brake pads and the same Torsen differential used on the Boss, along with the same brake upgrade from the 2012 Brembo package, featuring 14-inch vented front discs, unique 19-inch alloy wheels and summer performance tires.
• Option-group adjustments that make the GT's Brembo Brake Package and the V6 Performance Package available regardless of transmission choice.
• A new 4.2-inch LCD productivity screen that can provide drivers with key performance information via Ford's Track Apps—g forces, quarter-mile and 0-60 acceleration times, braking times, and automatic and countdown starts are all in the mix here.
• Two new premium audio choices—An eight-speaker, 370-watt Shaker system and the nine-speaker, 550-watt Shaker Pro.
• Hill Assist for Mustangs with manual transmissions, designed to prevent the vehicle from rolling backward on inclines before first gear is engaged.
• Optional leather or cloth Recaro performance seats with integrated head restraints specifically designed to accommodate front-row occupants wearing racing helmets.
Ford designers then unleashed a significant refresh of the Mustang's exterior to alert the public to all the changes under the skin. This will be obvious whether the Mustang is coming or going, too, as both the front and rear of the car get a more detailed, more aggressive appearance. A bolder grille and more powerful front splitter show the 2013 Mustang is ready to take care of business, and this meaner, more athletic look is accentuated by new, standard HID headlamps. Functional heat extractors also make their debut on the GT's hood for improved engine cooling.
A number of changes were made to add more sophistication to the Mustang's exterior as well, including a high-gloss black panel that visually connects the car's "smoked" taillamps, body-color rocker panels and an extensive array of LED accent lighting. To extract another level of excitement from the 2013 Mustang, Ford also will premiere a new wheel lineup, highlighted by updated designs and finishes across the board.
"We are delivering a more distinctive and emotional design presence that celebrates the total performance of Mustang," said Darrell Behmer, Mustang chief designer. "This latest Mustang design is very respectful of its heritage while continuing to look forward with a more powerful and modern look."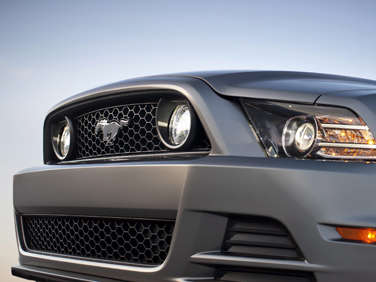 2013 Mustang Boss 302
The more track-oriented Mustang Boss 302—already packing hardware specifically tuned for lower weight and higher levels of performance—garners fresh new styling for 2013 that puts a sharper focus on its inspiration: the 1970 Mustang Boss 302 that legendary racer Parnelli Jones drove to that year's Tran Am championship.
"Everything we did for 2013 is consistent with and links directly back to our 1970 heritage. The reflective stripes and hockey stick graphic in particular mean something to Mustang enthusiasts," said Ford's Pericak. "Last year, we proved the car had what it takes to perform, and this year we focused on enhancing its eye-catching looks and celebrating its history."
Thus, while its 444-hp V8 engine, big Brembo stoppers and race-ready suspension haven't gone anywhere, the 2013 Boss adds new black "hockey stick" graphics with reflective stripes, a School Bus Yellow exterior color and Sterling Gray accents, all also available on the limited-edition/unlimited performance Boss 302 Laguna Seca model. The Boss lineup also benefits from the same exterior improvements given to the rest of the Mustang family, including the GT's hood-located heat extractors, HID/LED light treatments and upgraded front splitter. A key difference: The Mustang's new grille has been modified for the Boss 302 with easily removable covers instead of fog lamps; the covers can be taken off with a screwdriver when it's time to hit the track to provide further improvements to cooling.
SYNC also debuts on the Boss 302 as a standard feature, allowing drivers easy access to hands-free, voice-activated calling, as well as voice control over USB-connected digital music sources.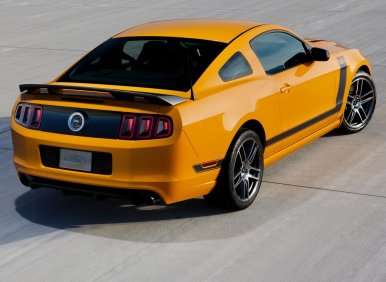 2013 Ford Shelby GT500
Immediately leap-frogging all of its muscle-car competition—and plenty of other supposedly high-po sports cars—the 2013 Ford Shelby GT500 is nothing less than the fastest, most powerful production Mustang that Ford has ever offered. Which makes sense when you also consider the car packs the world's most powerful production V8: The GT500's supercharged, all-aluminum 5.8-liter engine makes a staggering 650 hp and 600 lb.-ft. of torque, and delivers a top speed in excess of 200 mph—all while managing to be efficient enough to avoid the U.S. gas guzzler tax.
As expected, Ford also has given the GT500 a comprehensive systems upgrade to help drivers get the most out of that power. For example:
• The car's six-speed manual transmission now boasts revised gear ratios, a more robust clutch (with a dual-disc design), and upgrades to its bearings and housing.
• A new launch-control system—integrated with the engine- and traction-control systems—has been deployed and allows drivers to calibrate launch rpm based on variables such as tire temperature and road surface.
• Adding yet another layer of control, the GT500's Brembo brake system has been upgraded with six-piston front calipers, new brake pads, and larger front and rear rotors.
• Aerodynamics have been improved to maximize downforce and cooling while also minimizing drag.
"SVT keeps the Shelby GT500 on the cutting edge of technology and takes muscle car performance to new heights," said Jost Capito, director of Global Performance Vehicles and Motorsport Business Development. "We encapsulated every aspect of performance in this car—whether it's 0-60, top speed, racetrack or quarter-mile times. Beyond that, the daily driver also will find this car perfectly fits his or her needs."