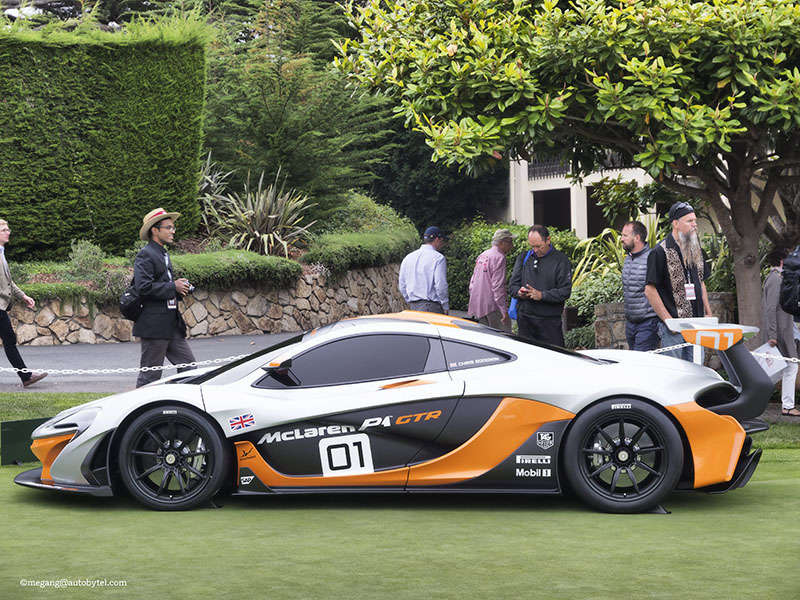 McLaren P1 GTR ・ Photo by Megan Green
McLaren is using the 2014 Pebble Beach Concours to show off the P1 GTR Design Concept, a preview of a upcoming track-only version of the gasoline-electric P1 supercar.
The P1 GTR Design Concept differs from the standard P1 with a number of improvements to aerodynamics. Those improvements include larger spoilers, rear side skirts, and a massive air diffuser in the back. The ride height has been lowered and a set of nineteen-inch lightweight motorsport alloy wheels have been added to help push the mean machine to speed on the racetrack. The P1 GTR Design Concept also comes with onboard air jacking system to make tire changes a bit easier.
Power still comes from a 3.8L twin-turbo V8 that has been tweaked to produce 986 horsepower, up 83 horsepower from the standard model.
McLaren also announced a tailored training program for each buyer when the P1 GTR goes on sale next year. The program includes driver training, an exercise program, access to one of the McLaren racing simulators, and participation in a minimum of six dedicated international drive events.