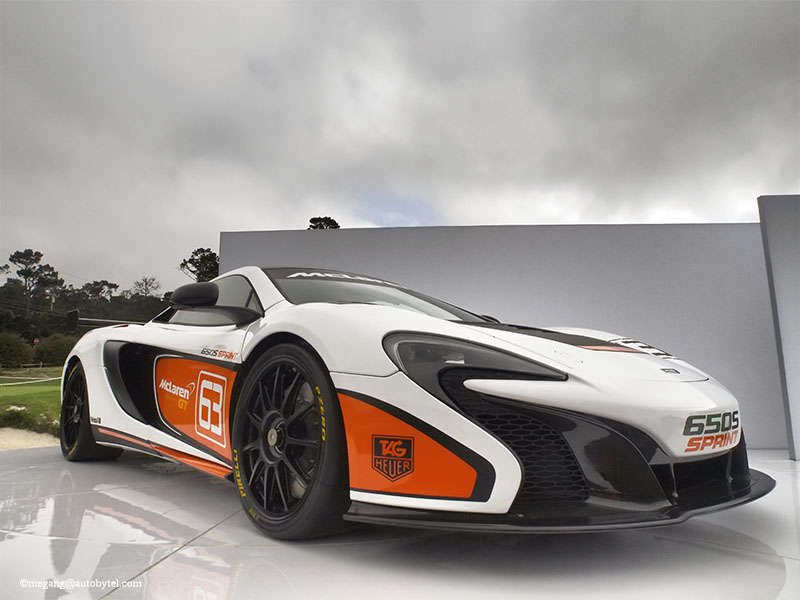 mclaren 650S
McLaren is using the Pebble Beach Concours d'Elegance this week to show off a track-focused version of the 650S, dubbed the 650S Sprint.
The stripped-out race variant of the 650S has been fitted with a roll cage, carbon-fiber bucket seats with six-point harnesses, a fire extinguisher, and air conditioning to keep you cool on those hot days of lapping. The twin-turbo 3.8L V6 engine in the 650S Sprint is the same as the one found in the standard 650S. That means 641 horsepower and 500 pound-feet of torque. What has changed is the calibration for the engine and transmission, designed to improve track performance. There's also an enlarged radiator, new hood, and fuel cell.
The suspension on the Sprint has been given the royal once-over and now sits an inch lower while McLaren's adaptive damping system has been reprogrammed for even stiffer handling characteristics. A set of nineteen-inch center-lock wheels shod in Pirelli racing tires and built-in air jack system wrap up the changes.
McLaren says the 650S Sprint will be available worldwide, but didn't announcing pricing for the U.S. or when it will be available.