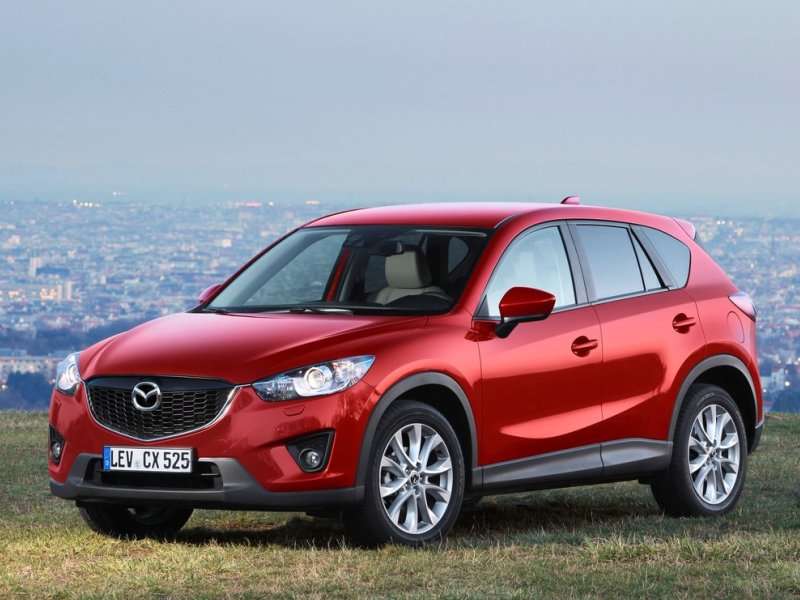 According to the EPA's most recent study of "Light Duty Fuel Economy Trends"—released yesterday but covering the 2012 model year—Mazda is both the most fuel-efficient automaker in the country and the one with the lowest CO2 emissions. Stretching the EPA's top-10 list to 11, for Chrysler's sake, here is the report's mpg leaderboard (with CO2 emissions in grams per mile):
Mazda—27.1 mpg, 328 g/mi
Honda, including Acura—26.6 mpg, 334 g/mi
VW, including Audi—25.8 mpg, 351 g/mi
Toyota, including Lexus and Scion—25.6 mpg, 347 g/mi
Subaru—25.2 mpg, 352 g/mi
Nissan, including Infiniti—24.1 mpg, 369 g/mi
BMW, including Mini—23.7 mpg, 377 g/mi
Ford, including Lincoln and Mercury—22.8 mpg, 390 g/mi
GM, including Buick, Cadillac, Chevrolet and GMC—21.7 mpg, 410 g/mi
Daimler, including Mercedes-Benz and smart—21.1 mpg, 426 g/mi
Chrysler Group, including Chrysler, Dodge, Fiat, Jeep and Ram—20.1 mpg, 442 g/mi
Now, about those numbers. To make things simple, we're just going to take the EPA at face value when it says that they represent its "best estimate of real-world CO2 emissions and fuel consumption." Those who would like to delve a bit deeper into the arcane world of EPA testing, or check out the Light Duty Fuel Economy report in its entirety, should start here: http://www.epa.gov/otaq/fetrends.htm. Also, results from Hyundai and Kia are not included because of what the EPA refers to as "a continuing investigation."
That being said, here's the party line from Jim O'Sullivan, president and CEO of Mazda North American Operations: "Mazda has long had a history of doing things differently, and SKYACTIV TECHNOLOGY is no exception. While other manufacturers have turned their attention to hybrids and electric cars, we chose to focus on perfecting the base technology used in more than 90 percent of the cars and SUVs sold today: the internal combustion engine. Through analyzing and refining this technology, as well as every other component in a modern automobile, Mazda has been able to achieve class-leading fuel economy in nearly every segment it competes in, and bring that technology—at an affordable price—to every customer."
Which means Mazda has a good chance of also leading the industry next year, since the 2012 results actually don't include the SKYACTIV-ated 2014 Mazda CX-5 or all-new 2014 Mazda Mazda6.
As for this year's EPA data, let's look at just two more lists to provide some context for Mazda's performance.
EPA Light Duty Fuel Economy Trends: Biggest Gainers and Segment Leaders
As mentioned previously, Honda realized the biggest gain in fuel economy between the 2011 and 2012 years, but all of the leading manufacturers except for VW did see year-over-year increases. Here's the data on mpg changes during that time, complemented once more by CO2 emissions data:
Honda—+2.5 mpg, -35 g/mi
Mazda—+2.1 mpg, -28 g/mi
Daimler—+2.0 mpg, -44 g/mi
Ford—+1.7 mpg, -32 g/mi
Toyota—+1.5 mpg, -22 g/mi
Subaru—+1.3 mpg, -20 g/mi
GM—+1.0 mpg, -19 g/mi
BMW—+1.0 mpg, -16 g/mi
Nissan—+0.8 mpg, -12 g/mi
Chrysler Group—+0.7 mpg, -16 g/mi
VW—-0.2 mpg, +2 g/mi
Let's also take a look at the mpg rankings for cars and trucks separately, to try and deal with the fact that the domestic automakers are so heavily invested in trucks. Here, you just have to be aware that the line between the two can be a bit hazy, with the EPA noting that: "many small, 2-wheel drive, sport utility vehicles" are currently classified with the cars. (Again, see http://www.epa.gov/otaq/fetrends.htm for the details.)
Unsurprisingly, when we sort the automakers by "car" fuel-economy, the top-rated automaker happens to be the home of the Toyota Prii:
Toyota—30.7 mpg
Honda—29.3 mpg
Mazda—29.3 mpg
Subaru—27.5 mpg
Ford—26.9 mpg
Nissan—26.9 mpg
VW—26.4 mpg
BMW—25.3 mpg
GM—24.8 mpg
Chrysler Group—23.7 mpg
Daimler—22.6 mpg
On the truck side of the ledger:
Subaru—24.0 mpg
Honda—22.2 mpg
Mazda—21.9 mpg
VW—21.9 mpg
BMW—20.1 mpg
Toyota—19.7 mpg
Nissan—18.8 mpg
Ford—18.5 mpg
Chrysler Group—18.6 mpg
Daimler—18.4 mpg
GM—18.1 mpg