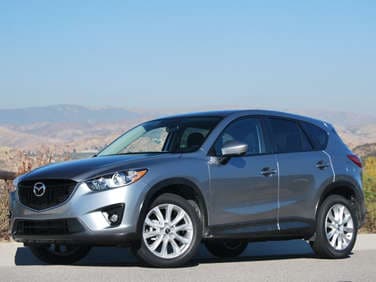 It turns out the 2013 Mazda CX-5, Autobytel's 2012 Crossover of the Year, has impressed more than just the Autobytel staff since it went on sale in late February. Named the Autobytel 2012 Crossover of the Year, the all-new Mazda CX-5 has seen strong enough global demand that Mazda is increasing production of the sporty compact crossover from 200,000 to 240,000 units. This is already the second time that Mazda has announced a production increase with original capacity set at 160,000 units.
Mazda is accommodating this extra capacity by adding a line at Ujina Plant No. 1 in addition to still using the Ujina Plant No. 2 where the 2013 Mazda CX-5 has been built since its launch. In the United States, the Mazda has sold 11,480 CX-5 through May, but Mazda's new crossover is popular in other global markets as well. Since its introduction, Mazda CX-5 orders in Russia (Mazda's biggest European market) have almost equaled the original expected annual amount, and Japan orders have already doubled the initial estimates.
"I am grateful for the high praise the CX-5 has been receiving from customers all over the world. This production capacity increase for the CX-5 demonstrates that we are working hard to deliver the vehicle to waiting customers as early as we possibly can," said Mazda president and CEO, Takashi Yamanouchi. "It will also help establish a flexible production system that enables us to produce new-generation Skyactiv products at Ujina Plant No.1. I believe that it shows Mazda is making steady progress in optimizing its automobile manufacturing processes."
Mazda also said that the upgrades being made to Ujina Plant No.1 will also help it produce new "Skyactiv products" sooner than expected, but it is not clear whether this refers to new drivetrain components or new vehicles using the Skyactiv technologies.
At the same time Mazda announced its production increase for the 2013 Mazda CX-5, it also announced that it would be doubling production of the Skyactiv engines at its Hiroshima plant by this October. This plant produces both the gasoline Skyactiv-G engine and the diesel Skyactiv-D which are used globally in the CX-5 and Mazda MAZDA3 as well as future Mazda products that include the next-generation Mazda MAZDA6 due out later this year. Mazda currently is on pace to build 400,000 engines per year, but the increased capacity will be able to pump out 800,000 engines.