When drivers hit the track for the first event in the 2013 Grand-Am Rolex Series—one of the country's premier road-racing competitions—it will bring a whole new dimension to the term "dropping the green flag": That's because the Rolex folks have announced it's time to launch a new GX class for racecars featuring advanced green technologies, including an unexpected entry from an expected source. Mazda, well-known for its deep commitment to road racing in this country, recently confirmed it would participate in GX racing with cars featuring specially tuned versions of its new SKYACTIV-D clean-diesel engine (although the exact car model will be announced closer to the start of the new season).
"This opens a new chapter in racing for us," said Jay Amestoy, Vice President of Mazda Motorsports, Mazda North American Operations (MNAO). "We've won with rotary technology [in the Mazda RX-8], and now we're looking to again put our customers in the winner's circle with what we believe will be the most advanced and cleanest production-based powerplant the sport has ever seen."
Mazda SKYACTIV-D: Racing into the Future
Mazda's new motorsports effort will look to pick up where the RX-8—a multiple championship winner in the Rolex GT class—left off, but with a couple of differences. One, obviously, is the switch to a clean-diesel powertrain. Details remain sketchy, but Mazda says its new motivator will be a 2.2-liter I4 with dual-stage turbochargers and a completely stock engine block. According to John Doonan, director of motorsports for MNAO, it will "deliver outstanding performance and fuel economy coupled with the kind of quality, durability and reliability needed to produce great street cars and win endurance races."
Another big change is that Mazda will not campaign a factory-backed racer in the series; instead, it will follow the same sort of successful formula it's used to support grass-roots racing at other levels of competition. As explained by Doonan: "While the SKYACTIV-D clean diesel engine is all-Mazda, the teams will be independents. We look forward to taking customer orders later this year."
As far as other GX class competitors go, Ed Bennett, Grand-Am's president and CEO, said:  "A number of OEMs have expressed their desire to field cars that wouldn't fit within our current two-class structure, so it makes good sense for us to find a way to accommodate those desires and in the process make something that's already great—the Rolex Series—even better."
An Audi entry would certainly make good sense, too, since the company's diesel-powered R18 TDI has been a dominant force in international endurance racing, winning the 2011 24 Hours of Le Mans, among others.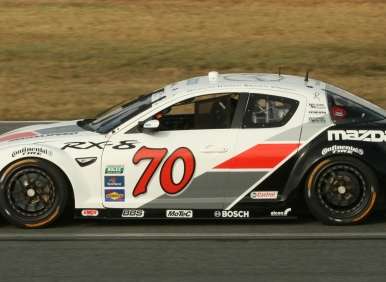 Mazda SKYACTIV Reset
Mazda's SKYACTIV technologies were developed to help maximize the fuel-efficiency potential of plugless vehicles and include a comprehensive suite of advances that reduce friction and allow for the use of a higher compression ratio, enabling the engine to get more power out of each gallon of fuel. The first U.S. vehicle with a full SKYACTIV powertrain, including a SKYACTIV transmission, is the Mazda CX-5, which delivers 155 hp, 150 lb.-ft. of torque and EPA ratings of up to 26 mpg city/35 mpg highway/29 mpg combined. To put those numbers into context, consider: Compared to the company's previous 2.0-liter engine, that same-sized SKYACTIV-G powerplant provides more power, more torque, 15 percent better fuel economy and 15 percent fewer emissions.
The CX-5 also is expected to introduce a SKYACTIV-D powertrain, relying on the same engine that will be used in the Rolex Series GX racers, early next year. Again, Mazda is keeping a lid on the engine's exact specs, but it promises a 14:1 compression ratio and, compared to the automaker's current 2.2-liter diesel—not available in the U.S.—up to 20 percent better fuel efficiency, a 20 percent reduction in internal engine friction and a 10 percent cut in weight.
Of course, some industry observers may remember that the CX-5 is available now in Europe with a SKYACTIV-D setup, and that vehicle can produce more than 170 hp and almost 310 lb.-ft. of torque, and top 50 mpg in European testing.
(The 2012 Mazda3 also offers a SKYACTIV-G powertrain that can post an EPA line of up to 28 mpg city/40 mpg highway/33 mpg combined.)