Mazda Ryuga Concept Preview – 2007 Detroit Auto Show: Maybe it's a case of wanting what you can't have. Or maybe it's just the lame duck competition. Whatever the reason, there was a striking difference between the two Mazda debuts on one stage at the 2007 Detroit Auto Show. On one side was the 2008 Tribute Hybrid, a square-ish copy of its cousin, the Ford Escape. Then, just as the crowd's snoring started to take on a certain rhythm, Mazda unveiled the Ryuga…concept. Yeah, that means this sexy four-seater is just a tease, and not the long-awaited payoff for all your weary-eyed overtime. However, there is a nugget of hope – the Ryuga is said to hint at future Mazda styling.
What's Under the Hood
Power for the Mazda Ryuga concept comes from a 2.5-liter flex fuel (E-85 ethanol) engine mated to a six-speed automatic transmission. At 168.5 inches, the Ryuga is a foot shorter and a foot lower than the current Mazda 3 hatchback. It stands 49.6 inches high and rides on a 110.2-inch wheelbase, which is supported by 245/35R-21 Toyo tires.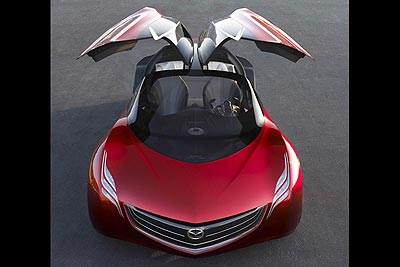 What it Looks Like
As Mazda tells it, Ryuga means something like "gracious flow" in Japanese. We're not schooled in that particular foreign language, but a look at the Ryuga concept makes you think they've relayed the correct definition. The shape is sleek, low, and beautifully sculpted, with a line that runs seamlessly from the front end, along the windshield, and over the roofline where it finally meets the tail. The Ryuga's front end resembles a face, where the grille mimics a mischievous smile, the thin headlights appear as squinted eyes, and hood bulges looking like arched eyebrows. Interestingly, the headlights are supposed to look like bamboo leaves releasing drops of dew – apparently, artistic gents we ain't.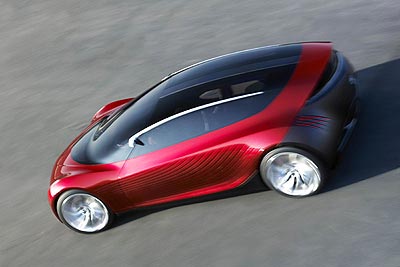 What's Inside
Open the dual gull-wing doors and the Ryuga's futuristic, four-passenger interior is unveiled. The driver and front passenger are treated to supportive front bucket seats, ahead of which is a unique gauge cluster and control panel that operates by touch, so once you learn where things are, you might never need to peel your eyes off the road. Leather, polished aluminum, and modern plastic materials accentuate the cabin, adding further to the contemporary flavor.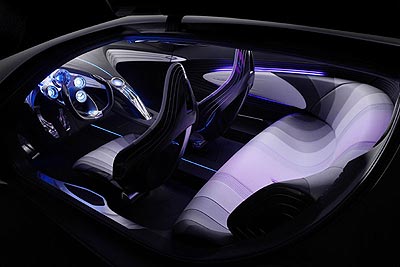 What Mazda Says
"Mazda is a brand that thrives on distinctive design," says Laurens van den Acker, Mazda's general manager of design in Japan. "We are standing up to be recognized for boldness and originality. We have the courage to forge leadership in selected areas such as dynamic performance and striking design. Combined, these attributes give each of our products the soul of a sports car. We're working on the face of Mazda to make it more distinguished and instantly recognizable. We can adjust this new surface language to suit various models within the Mazda family. The recent success of our product line has given us the confidence to seize this look as our own."
Photos courtesy of Mazda and Thom Blackett