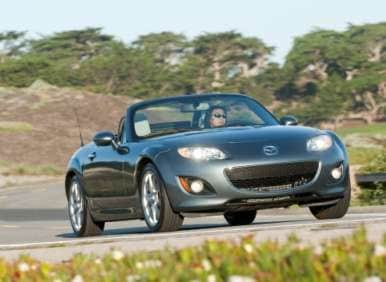 Although the Mazda MX-5 Miata offers enthusiasts much to love, there aren't too many drivers out there writing paeans to its power. It's not that the car is exactly slow, but its combination of 167 hp and 140 lb.-ft. of torque—even in a roadster weighing under 2,500 lbs.—means that it's not exactly fast, either. And that's particularly the case in today's automotive landscape, where even cars like the 2012 Toyota Camry can be noticeably quicker from 0-60 than the Miata.
That leaves Miata owners two options when it comes to bragging rights: Either fall back on the ol' "yeah, but it handles like it's on rails" boast or contact the automaker and exhort it to put the new Mazda MX-5 GT Concept into production. This ultra-lightweight Miata show car shows off 205 hp, and it's making its debut at the 2012 Goodwood Festival of Speed in England "to test customer reaction to a high-performance version of the iconic sportscar."
(The Goodwood event, held on the grounds of Goodwood House in West Sussex, England, is an annual hill climb-style competition known for drawing an especially eclectic range of international entries. This year's Festival will run from June 28-July 1, with organizers noting that: "The world's great celebration of car culture will be even bigger for 2012, with a record number of Formula One drivers and teams, classic vehicles, planes, and bikes galore in attendance.")
Mazda MX-5 Miata: The GT Advantage
The Mazda MX-5 GT Concept draws on the brand's extensive motorsports expertise and was put together by the team at Jota Sport, the same group behind the MX-5 racers campaigning in the British GT Championship. Jota managed to extricate almost 40 more horsepower from the Miata's 2.0-liter I4 for the concept, then sliced significant poundage from the car through the use of carbon fiber. Mazda hasn't released detail specs yet, but more power and less weight certainly sound like engineers are on the right track.
The MX-5 GT Concept is right for the track, too, with an upgraded, adjustable suspension and extensive aero improvements, including a carbon-fiber front splitter, rear diffuser, and rear spoiler. Recaro performance seats, a sport-tuned exhaust, racing slicks and roll hoops help fill out the package.
For those wondering about how serious Mazda is with the MX-5 GT, here's something else to consider: The Concept is no mere mockup—it's a true, drivable car that will run in the Goodwood hill climb in the "First Look" class for vehicles making their debut at the event.