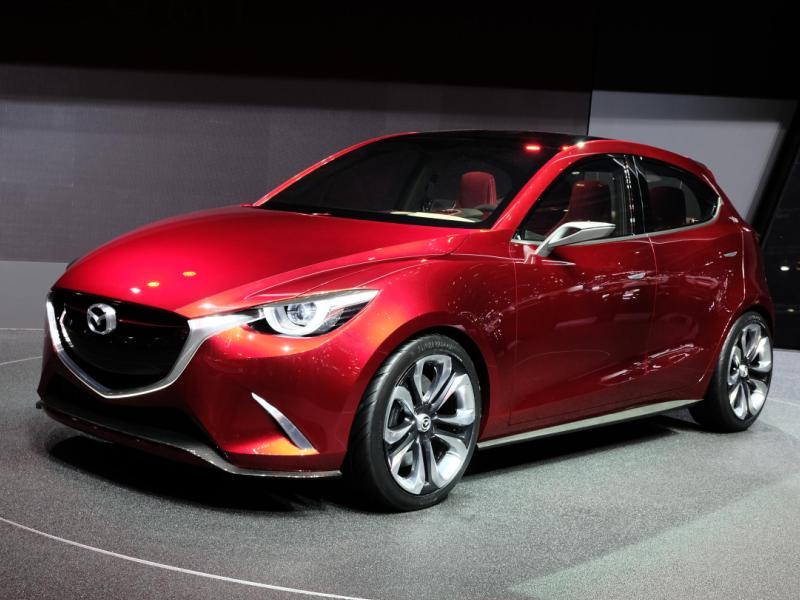 Previewing a next-gen replacement for today's Mazda Mazda2 subcompact, the Mazda HAZUMI Concept recently made its public premiere at the Geneva Motor Show. The party line from the automaker's representative director, president and CEO, Masamichi Kogai: "Mazda HAZUMI indicates the exciting direction of Mazda's products which, with no exception, will deliver Mazda's unique driving pleasure. We hope that they will enrich people's lives, and help build a strong and lasting bond between Mazda and our customers."
Although it might be more accurate to say the HAZUMI continues in the brand's current direction, following the same approach as entries like the 2014 Mazda Mazda3 compacts, Mazda Mazda6 sedan and Mazda CX-5 crossover. Thus, all three, as well as the HAZUMI, showcase the four "pillars" that will work to support the brand's future success in all models going forward, including use of the KODO "Soul of Motion" design language, SKYACTIV powertrain/chassis technologies, "Proactive Safety" features, and the brand's latest smartphone-enabled connectivity and infotainment systems.
Specific highlights of the Mazda HAZUMI Concept include:
An exterior design that "suggests explosive motion," according to Ryo Yanagisawa, chief designer of the HAZUMI
Stylish cabin cues like a "suspended" center console, Mazda's Active Driving Display and Heads Up Cockpit screen, impeccable craftsmanship, and sculptured accents
SKYACTIV motivation, courtesy of a 1.5-liter diesel engine complemented by the exclusive i-ELOOP capacitor-based regenerative-braking system and a stop/start feature
Top technologies such as the Mazda Connect system and a full portfolio of i-ACTIVESENSE safety measures, including adaptive front lighting, radar-based cruise control, blind-spot monitoring, lane-departure warning and forward-obstruction warning
More information about the Mazda HAZUMI Concept will no doubt be forth-coming as it works its way toward production later this year.