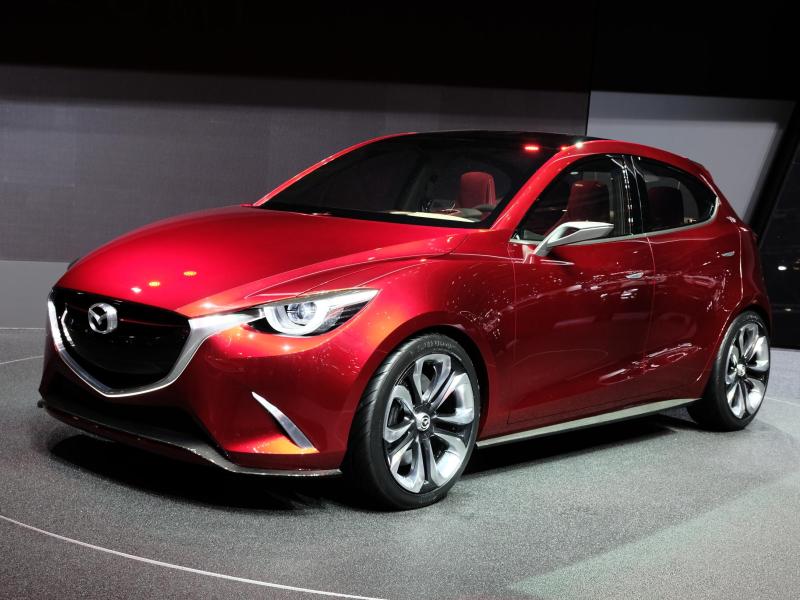 All Mazda will say about the Hazumi Concept that the company debuted at the 2014 Geneva Auto Show is that it is a preview of the automaker's next-generation subcompact car, an unnecessarily oblique reference to the aging Mazda 2.
Essentially, Mazda is using the Hazumi Concept to showcase how its Kodo design language translates to a pint-sized car, to announce a new SkyActiv diesel engine that is likely to be offered in the next Mazda 2, and to reference Mazda Proactive Safety and Mazda Connect 2 technologies that the company doesn't define beyond their names.
New Mazda Hazumi Concept: Exterior Styling
To my eyes, the Mazda Hazumi looks terrific. It's got Mazda's signature grille affixed to its nose, flanked by lidded HID headlights and unique running lights. As is true of the Mazda 3, the Hazumi Concept appears to be nose-heavy in profile, but the giant wheels and tires on the concept car help to balance things out. Lighting themes are repeated at the rear of the car, and the Hazumi Concept has sporty center-mounted dual exhaust outlets.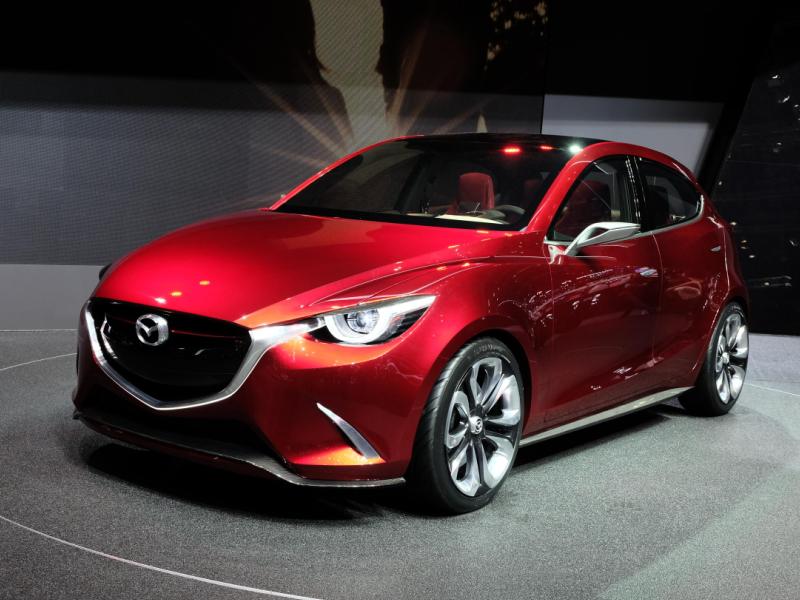 New Mazda Hazumi Concept: Interior Design
A panoramic glass roof bathes the cabin in natural light, and given the car's role as an affordable entry-level vehicle, it is not surprising that instrumentation and décor are minimalist in nature despite the triple-tone red, white and black color scheme. The Hazumi Concept is a 4-seater, with rear buckets seats separated by a console with an infotainment display. Of course, there's no way this flight of fancy would make production.
Instrumentation is simplistic in design, but complex in terms of the information delivered, with a digital speedometer nestled within a tachometer and flanked by data displays. The driver grips a thick, leather-wrapped steering wheel, and the Hazumi Concept features a touchscreen infotainment system in the center of the dashboard, presumably the Mazda Connect 2 technology referenced in the company's press release. It also features a heads-up display screen, simple three-dial climate control, and a Mazda Connect controller on the center console.
No mention is made of what might comprise the mysterious Mazda Proactive Safety Package.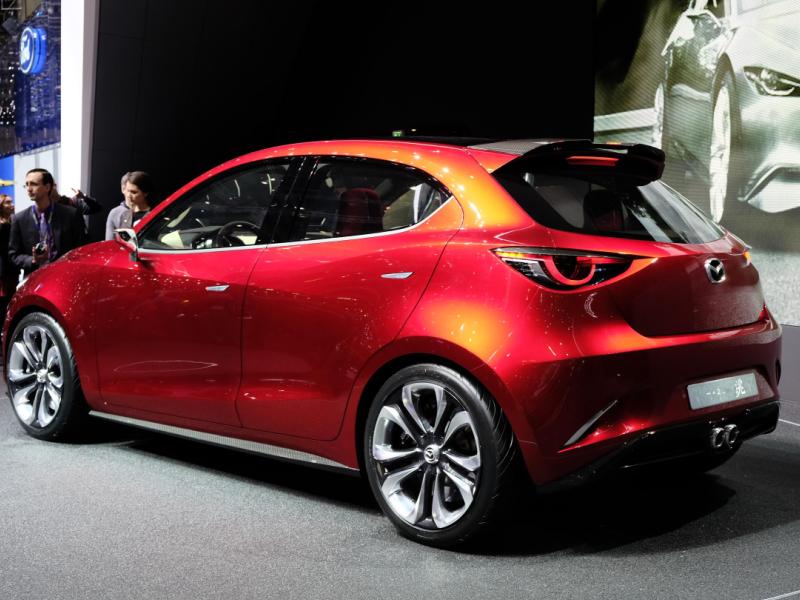 New Mazda Hazumi Concept: What's Under the Hood
In conjunction with the appearance of the Mazda Hazumi Concept in Geneva, the automaker announced a new 1.5-liter 4-cylinder diesel engine that, we assume, is going to be installed in the next-generation Mazda 2. The automaker promises that this new SkyActiv-D engine will burn cleanly, that it will be highly efficient, and that it will deliver engaging performance thanks to linear acceleration and lots of torque.
Based on photos of the Hazumi Concept, Mazda plans a transmission without a clutch and paddle shifters for the steering wheel. Whether a continuously variable transmission (CVT), an automated manual, or a traditional automatic is the choice remains to be seen.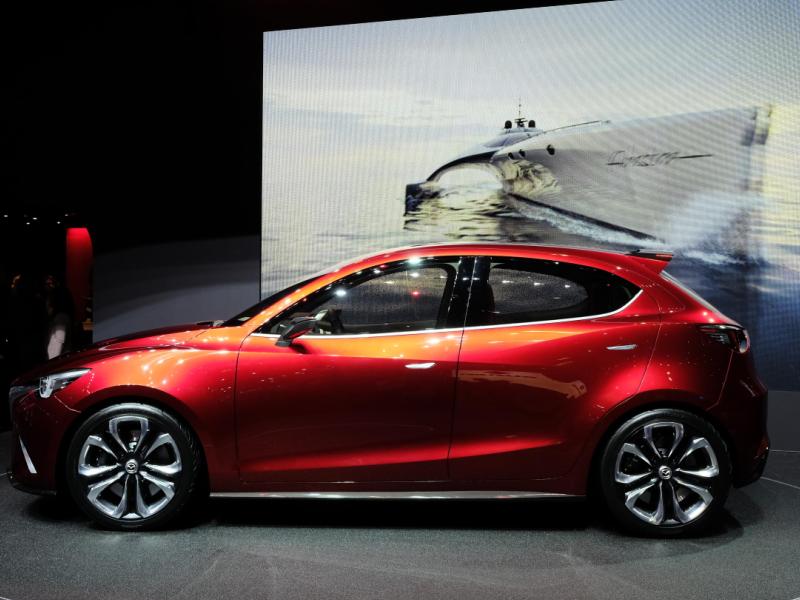 New Mazda Hazumi Concept: What Mazda Says
"Mazda Hazumi indicates the exciting direction of Mazda's products which, with no exception, will deliver Mazda's unique driving pleasure," said Masamichi Kogai, representative director, president, and CEO of Mazda. "We hope that they will enrich people's lives, and help build a strong and lasting bond between Mazda and our customers."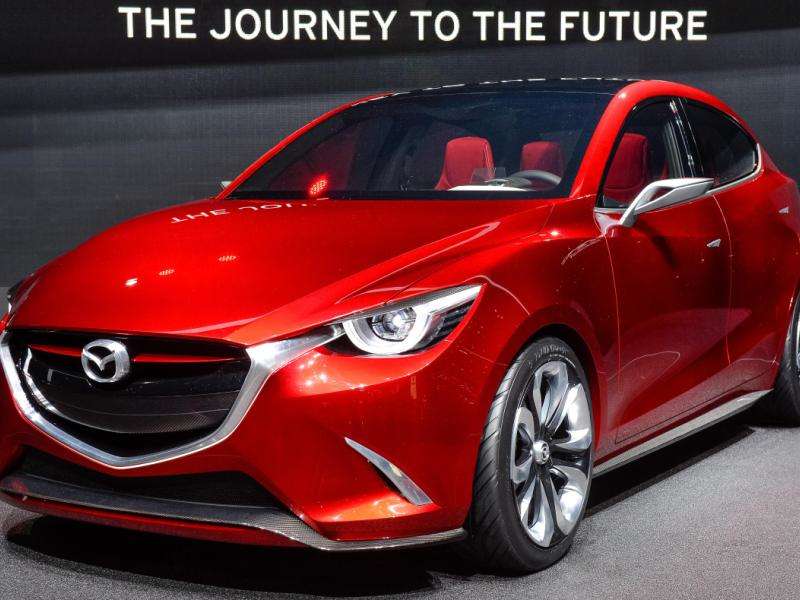 New Mazda Hazumi Concept: What Autobytel Thinks
Isn't it refreshing to hear a corporate bigwig talk about things like "driving pleasure," enriching people's lives, and building bonds with customers that are "strong and lasting"? I like that kind of long-range, consumer-focused, visionary thinking.
As for the Mazda Hazumi Concept, it looks terrific in conceptual form with flashy paint and big wheels and tires. Plus, the promise of a diesel engine that delivers lots of torque combined with impressive fuel economy is quite compelling. It will be interesting to see how much of this translates to the assembly line and, ultimately, Mazda showrooms.