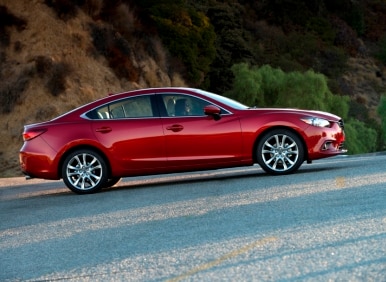 With the stylish 2014 Mazda Mazda6 increasing sales in each of the four months since its launch, the Mazda brand seems to be slowly but surely coming back to life in this country. In May, for example, the 2014 Mazda Mazda6 was good for 3,944 sales, and while that left the car more than 35,000 units behind the segment leader, that latter car, the Toyota Camry, actually saw sales decline last month as compared to May 2012; in contrast, the 2014 Mazda Mazda6 grew sales by 71.9 percent during the same time.
Also, two other entries that leverage Skyactiv powertrain technology increased volume last month for the brand: The Mazda CX-5 compact crossover turned in its best monthly sales performance yet, with 7,128 deliveries and a 79.4 percent jump in deliveries, and the Mazda Mazda3, leading the brand with 8,935 sales, earned a more modest 5.4 percent bump in volume. As a result, Mazda's May sales totaled 24,270 units, for an overall increase of 19.2 percent.
But the benefits of Mazda Skyactiv tech go beyond the monthly sales reports. This past weekend, a 2014 Mazda Mazda6 racecar—packing a Skyactiv diesel engine that will debut in a production configuration later this year—claimed its second Grand Am road-racing victory of the year. Doing the honors in the GX class during Grand-Am's visit to Detroit: Joel Miller and Tristan Nunez.
"Our Mazda Clean Diesel ran flawlessly and the SKYACTIV technology showed again today [it was] a strong contender," said Miller. "I look forward to Mid-Ohio in two weeks and the continued development of the SKYACTIV-D Clean Diesel package!"
And so, of course, do retail drivers.