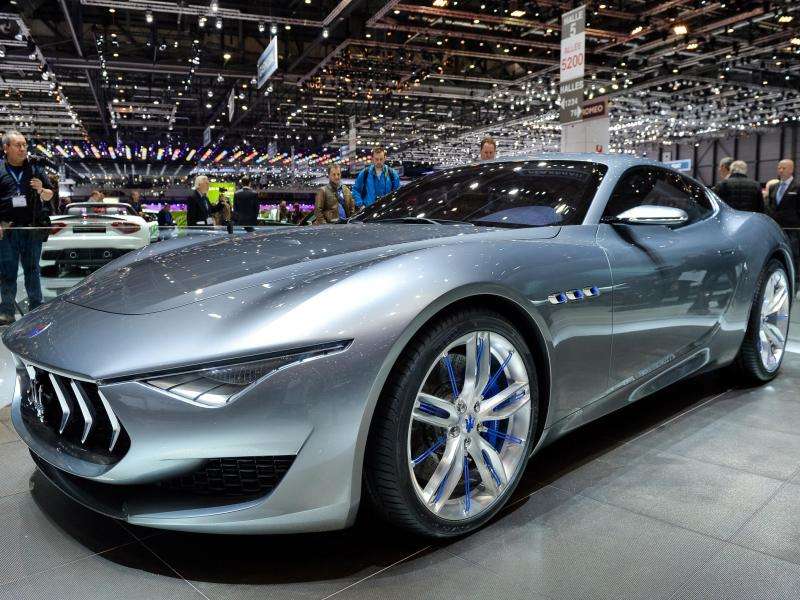 2014 marks the 100th anniversary of Maserati and to commemorate the occasion, the Italian sports car builder revealed the Alfieri concept at the Geneva Motor Show this week. The model draws from the automaker's rich past to create a modern looking sports car.
The Alfieri is a 2+2 coupe and directly draws influence from "Italian style 2+2 like "...the 1957 3500 GT, the 1959 5000 GT and the 1969 Indy before it..." The front features a long, flowing hood with incised lines and a low-hanging, oval shaped grill. The wheel arches are very pronounced. Towards the back, the Alfieri has a slung-back roofline, flowing rear fenders with integrated air scoops, and a diffuser with dual exhausts. A liquid-metal paint finish and twenty-one inch wheels complete the look.
The impression of the Alfieri's interior leans towards minimalism. The dashboard is comprised of simple, flowing lines with TFT screens for the instrument cluster and a tasteful infotainment system. Other details in the Alfieri's interior include a handmade three-spoke steering wheel and aniline leather covering a number of surfaces.
Under the Alfieri's skin is a modified version of the chassis of the GranTurismo MC Stradale. Compared to the GranTurismo, the Alfieri is 13.5 inches shorter overall and has a 9.4 inch shorter wheelbase. Power comes from a 4.7L V8 engine with 460 horsepower and 570 Newton-meters of torque (about 420 pound-feet of torque). This engine, along with a six-speed automatic and limited-slip differential, has been cribbed from the GranTurismo.
The intriguing thing about the Alfieri concept is what Maserati said in their press release.
"As with all concept cars, there is a strong desire to turn the Alfieri into reality. Though not yet at the final prototype stage like tomorrow's grand touring, it has nevertheless been conceived, designed and created in an approach aimed at 100% realism."
This means we could be seeing the Alfieri in some shape or form as a production model in the future.