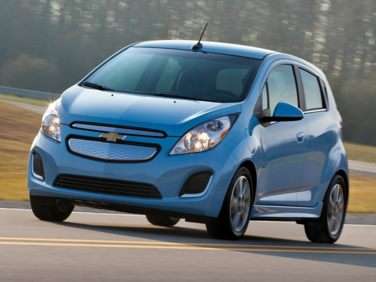 Designed by American engineers and refined at a GM facility in Wixom, Mich., the electric motors and drivetrains for the 2014 Chevrolet Spark EV are now in retail production at the General's Baltimore Operations plant in White Marsh, Md. It's another victory for U.S. manufacturing, but the decision wasn't solely about supporting the American economy.
According to Bill Tiger, plant manager at Baltimore Ops, there were other important reasons why GM decided to become the first U.S. automaker to build EV motors in this country: "By designing electric motors in Michigan and manufacturing them at Baltimore Operations, GM controls the design, materials and production processes, as well as reducing costs and improving performance, quality, reliability and manufacturability."
The result is ye olde win-win for the 2014 Chevy Spark EV, which also will offer advantages like:
130 hp and 400(!) lb.-ft. of torque, enabling a 0-60 time of less than 8 seconds
A +20-kWh lithium-ion battery that is "expected to provide among the best EV range performance in its segment," backed by an 8-year/100,000-mile warranty
North America's first SAE Combo DC Fast Charge system, allowing owners to recharge the Spark EV to 80 percent capacity in about 20 minutes
Pricing that opens below $25,000 (with tax incentives)
Advanced customer technologies such as the Chevy MyLink connectivity/infotainment system and integration of "Siri," Apple's virtual valet service (for owners with compatible iPhones)
The 2014 Chevy Spark EV is scheduled to go on sale in Oregon and California this summer, then head for global markets in Canada, Europe, South America and South Korea in the mid-term future.
(Green watchers also will be happy to note that GM's Baltimore Operations is a landfill-free facility that recycles 100 percent of its daily waste, has a 1.2-megawatt solar array on its roof, and features a certified Wildlife Habitat on its grounds.)