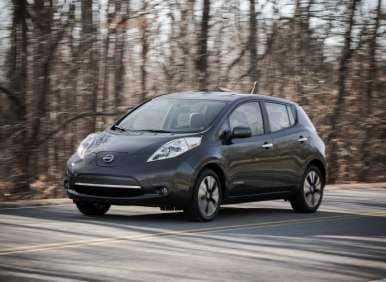 It was an exceedingly close call, but with sales rising 1 percent—representing an additional 1,409 deliveries—Nissan North America posted its highest monthly U.S. sales total ever in March: The Nissan division tallied 126,623 sales (up .4 percent), with Infiniti providing 11,103 deliveries (a 9 percent advance), for a grand total of 137,726 vehicles leaving dealerships in March.
Particularly notable: The 2013 Nissan LEAF also scored its highest monthly sales volume ever, delivering 2,236 units that marked a 286.2 percent increase as compared to March 2012. Of course, it no doubt helps that the LEAF is now built in America and offers an affordable new entry model that can be had nationwide for a net cost of $21,000—and as low as $18,800 in California, as detailed here: http://www.autobytel.com/nissan/leaf/news/nissan-net-price-of-2013-nissan-leaf-slashed-to-18-800-115033/.
Also, while the 2013 Nissan Altima endured an 8 percent decline in sales last month, it still ended up the best-selling car in the country in March—outselling the Toyota Camry by 100 units.
Speaking of details here are some about Nissan's other top sales performers from the prior month:
The 2013 Nissan Versa set a record for March sales, with 15,917 deliveries that were good for a 2.1 percent improvement and the crown as the best-selling subcompact in the country.
Also achieving record deliveries for the month was the 2013 Nissan Pathfinder crossover, which rang up 9,071 sales, some 177.1 percent ahead of last year's pace; through the first quarter of 2013, sales of the redesigned Pathfinder have jumped by 172.4 percent.
Backed by high-value pricing that has reduced its MSRP by $1,270 as compared to the 2012 model, the 2013 Nissan Frontier pushed sales up by 12 percent.
The 2013 Nissan Titan earned 2,084 March sales, representing 20.4 percent growth since the same month last year.
A 73.1 percent sales spike meant 2,913 deliveries last month for the 2013 Nissan Xterra, which also boasts reduced pricing for the new model year.
Nissan's NV lineup of full-size commercial vans had its best month ever, thanks to a 4.7 percent sales bump to 1,290 units.