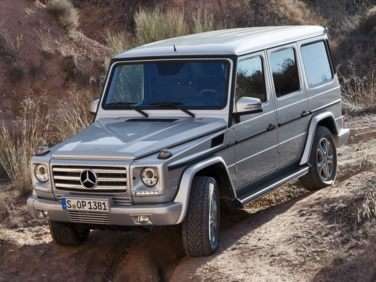 Even as anticipation mounts for the next wave of fresh products from Mercedes-Benz, the brand has achieved a new high-water mark for March sales, with Mercedes-Benz USA (also including Sprinter commercial vans and Smart city cars) reaping the highest first-quarter sales total in the company's history.
Significantly, it was the Mercedes-Benz C-Class that led the way for the brand, with 8,396 March sales that represented a 32.4 jump as compared to the same month last year. Perhaps more importantly, the C-Class put up that kind of performance while its archrival, the BMW 3-Series, was enduring a 10.5 percent decline. And on a quarterly basis, it's worth noting that the Mercedes product has outsold the 3-Series by more than 2,000 units.
The company also realized strong performances at the other end of the spectrum, where the Mercedes-Benz S-Class—about to be succeeded by an all-new next-gen model—enjoyed a 24 percent surge in volume to deliver 1,216 units. Receiving plenty of sales attention as well from premium customers in March was the Mercedes-Benz SL-Class, which relied on a 790.5 percent volume increase to record 659 sales.
On the truckier side of the ledger, all three G model lines benefited from at least double-digit gains:
G-Class—250 sales, +184.1 percent
GL-Class—2,803 sales, +42.4 percent
GLK-Class—2,694 sales, +11.2 percent
The bottom line for the Mercedes-Benz brand in March: 24,646 sales and a 6.5 percent increase that was just ahead of the overall industry's average growth rate last month.
"We're coming out of our highest first quarter on record—and that's before launching a single new product," said Steve Cannon, president and CEO of MBUSA. "With completely redesigned E-Class models arriving at dealerships, a next generation S-Class and a new entry point for the brand—the CLA—in the wings, we're looking at our strongest year on record."