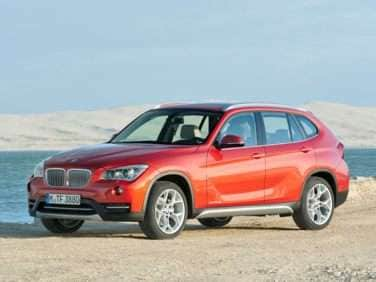 It was a bit of the ol' "good news, bad news" for BMW last month, as both the brand and the BMW Group as a whole—including MINI—swept to new March sales records. That, obviously, was the good news, with the not-so-good being that the iconic BMW 3-Series continues to feel the heat from rivals like the Mercedes-Benz C-Class, Audi A4 and Cadillac ATS, and saw sales slip another 10.5 percent in March—albeit while leading all three in terms of volume, with 8,858 units.
In fact, the only BMW car in the black last month was the BMW Z4 roadster, which grew sales by 21.1 percent on 316 deliveries.
On the other hand, every single BMW crossover boasted double-digit advances except for the all-new BMW X1, and that's primarily because the compact CUV's 2,764 sales came in its first March on the market. But beyond that, the BMW X3 delivered 3,031 units and a 42 percent volume jump, the BMW X5 transformed a 36.4 percent increase into 3,876 sales, and the BMW X6, with 410 sales, welcomed a 64.7 percent spike over last March's performance.
The BMW brand's overall sales for the month came to 27,078 units, up 13.1 percent and representing a 903-unit lead over Mercedes-Benz.
"March roared out like a lion, giving BMW even better numbers than the previous record set in 2007," said Ludwig Willisch, president and CEO, BMW of North America. "The arrival this month of the new 320i at a very attractive price plus the changeover to the 2014 models will further accelerate our momentum in the months ahead."
Note: MINI also pitched in with 6,071 March sales, up 3.5 percent, to put the BMW Group's grand total at 33,149 sales (+11.2 percent). Leading the smaller brand for volume was the MINI Hardtop, at 2,750 sales, with the biggest gain coming from the MINI Roadster, which lifted sales 114.6 percent and attracted 309 customers.