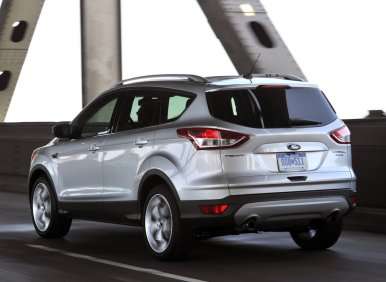 Ford's newest vehicles, the Escape crossover and Fusion midsize sedan, were the big champions this month as the two set all-time monthly sales records in March. The Fusion posted sales of 30,284 vehicles, setting a new monthly record. The Escape also set a new monthly record with sales of 28,934 vehicles, a 27.6 percent increase when compared to last March.
"Customers are buying our all-new Fusion and Escape in record numbers, and we are working harder than ever to keep pace with demand for these fuel-efficient vehicles," said Ken Czubay, Ford vice president, U.S. Marketing, Sales and Service.
Overall for the month of March, Ford sold 236,160 vehicles; an increase of 5.7 percent. Overall sales for the year stand at 582,584 vehicles, an increase of 12.4 percent. Cars saw 0.2 percent decrease, while trucks and crossovers/SUVs saw increases of 6 and 13.6 percent respectively. Lincoln is still not faring so well though. The month of March saw the brand drop 25.2 percent to 6,825 vehicles. All Lincoln models posting a loss in sales. Lincoln is hoping MKZ production coming back to full strength will help reverse this trend of losses. Here are some other details from Ford's March Sales: Mustang sales saw a 15 percent drop this month, totaling 7,688 vehicles. Blame the cold weather. F-Series Trucks still the big seller in Ford's lineup, posting sales of 67,513 for March Explorer posted best sales in March with 17,509 vehicles sold.