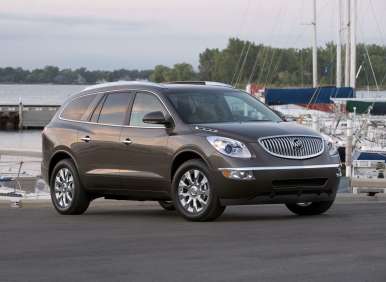 GM's troika of recently refreshed large crossovers—the Buick Enclave, Chevy Traverse and GMC Acadia—combined for 26,676 sales in March, increasing deliveries by a steep 62.7 percent as compared to the same month last year. Backed by that performance, GM as a whole recorded 245,950 deliveries in March to both keep its accustomed place atop the national sales charts and post a 6.4 percent increase. Now, it must be admitted that Toyota has claimed the March sales crown in terms of retail deliveries, but GM grew overall sales at a faster rate last month than Ford, Chrysler, Toyota, Nissan, Hyundai, VW, or Kia. The only mainstream automaker to ring up companywide sales at a quicker pace than GM in March was Honda, with a 7.1 percent gain.
Further, as pointed out by Kurt McNeil, vice president of U.S. sales operations for the automaker: "GM delivered its best March sales in five years thanks to a strengthening economy and new products, and we are expecting our third consecutive increase in market share versus last year.
"Sales of smaller cars have been robust for some time. Trucks have improved in lockstep with the housing market and the strength of the crossover market signals that America's families are more confident about their financial health."
GM's March Sales Highlights
McNeil mentioned the success of GM's new products on the previous page, and a number of them do deserve some attention even though, since they weren't on sale last year, they can't be listed among the biggest gainers.
The award-winning 2013 Cadillac ATS, for example, scored 3,587 sales in its first March on the market, and the 2013 Buick Encore, 2013 Buick Verano, 2013 Cadillac XTS, 2013 Chevy Spark each tallied more than 3,000 sales. Those are basically niche numbers, but the vehicles are basically niche products, so that's okay—at least for now.
Other March sales highlights for the General included:
2013 Buick Enclave—5,676 units, +55.1 percent
2013 Chevy Tahoe—7,837 units, +39.3 percent
2013 Chevy Traverse—10,944 units, +54.5 percent
2013 GMC Acadia—10,006 units, +77.1 percent
2013 GMC Yukon—2,655 units, +34.8 percent
2013 GMC Yukon XL—2,292 units, +64.5 percent
Buick division—18,007 units, +37.4 percent
Cadillac division—15,751 units, +49.5 percent