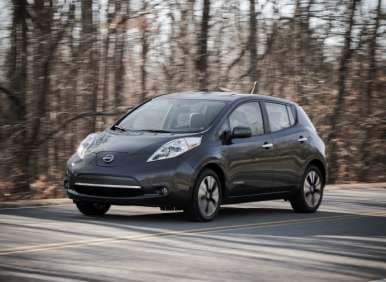 Well, it looks like that new, more affordable version of the 2013 Nissan LEAF is hitting ye olde sweet spot with EV buyers. Now on sale with a starting price that's some $6,000 lower than for the 2012 model, the LEAF had its highest monthly sales volume ever in this country: 2,236 deliveries that marked a 286.2 percent year-over-year increase and helped Nissan's all-electric LEAF outsell the Chevy Volt for the first time in more than a year.
As a reminder, the MSRP for the 2013 Nissan LEAF is a friendly $28,800, and with $7,500 in federal tax credits, the net cost to drivers is a mere $21,300; in California and other states with their own incentives, that amount can drop even further. (See: http://www.autobytel.com/nissan/leaf/news/nissan-net-price-of-2013-nissan-leaf-slashed-to-18-800-115033/.)
March also saw a new name charge to the top of the first-quarter EV sales rankings: the Tesla Model S. According to the folks at the Hybrid Cars Dashboard, who provided all the numbers here, the Tesla S delivered approximately 1,950 units last month to become the best-selling plug-in vehicle in the country through the first three months of the year. The car's Q1 sales of about 4,750 units were 500 more than the No. 2 player, which was the Chevy Volt, with 4,244 sales during that time.
Overall, sales of plug-in vehicles climbed 84.3 percent last month, albeit on just 7,632 deliveries that represented 0.53 percent of the market. Other notable EV/plug-in performers last month included:
Toyota Prius Plug-in—786 sales, -11.8 percent
Ford C-MAX Energi—494 sales in its first March on the market
Ford Fusion Energi—295 sales, also new in March
Ford Focus EV—180 sales, also new in March
Toyota RAV4 EV—133 sales, also new in March
March Auto Sales: Toyota Prius Wins in Weak Market
U.S. drivers' apparently unstoppable craving for big trucks saw the big three mainstream pickups each top 30,000 units in March, while each also outperformed the industry in terms of growth; in fact, the Ford F-150, still the best-selling vehicle in America, outsold the best-selling car in America—the Nissan Altima—by 30,000 units last month. All of which is mentioned to help explain why hybrid sales slipped by 3.6 percent in March.
Consider: Seven of the 10 top-selling hybrids last month also were on sale in 2012, allowing for year-over-year comparisons. And of those, only one—the all-new Ford Fusion—was in the black in March. The numbers:
Toyota Prius—13,868 sales, -23 percent
Toyota Camry Hybrid—4,461 sales, -17.5 percent
Toyota Prius c—4,026 sales, -17.4 percent
Toyota Prius v—3,460 sales, -29.9 percent
Ford Fusion Hybrid—3,417 sales, +238.7 percent
Ford C-MAX—3,275 sales, not on sale in March 2012
Hyundai Sonata Hybrid—1,623 sales, -22.6 percent
Toyota Avalon Hybrid—1,616 sales, not on sale in March 2012
Lexus ES Hybrid—1,561 sales, not on sale in March 2012
Chevy Malibu eAssist—1,359 sales, -4 percent
Last month also was the initial March at dealerships for a number of other high-profile hybrids that are worth checking. Volkswagen, for example, has gotten a lot of attention for its turbocharged VW Jetta Hybrid, and that car scored 451 March sales—five more than for the all-new Lincoln MKZ Hybrid. In addition, three near-premium entries had their first spring appearances, including the Acura ILX hybrid (145 sales), Audi Q5 Hybrid (84 sales) and BMW ActiveHybrid3 (78 sales).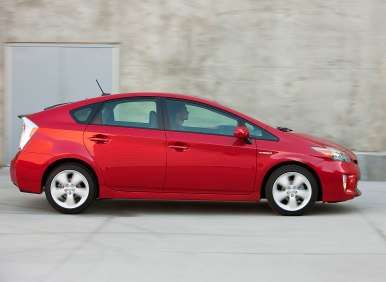 March Auto Sales: Diesel Drumbeat Continues for VW
Much as was the case on the hybrid side of the ledger, the market for diesel-powered entries endured a modest 4.1 percent decline, and here a couple of different trends are in play: First, smaller diesel products are starting to get squeezed by vehicles with turbocharged gas engines, which are providing the kind of torque numbers usually associated with diesels but while still achieving strong EPA grades using lower-priced fuel. On the other hand, there's much anticipation brewing at the other end of the size spectrum, which will soon see diesel debuts for the Ram 1500, Jeep Grand Cherokee and Audi A8.
Also, there were some diesel sales stars in March, like the VW Passat TDI. Showcasing an EPA line of up to 31 mpg city/43 mpg highway/35 mpg combined, the clean-diesel Passat lifted sales by 57.7 percent on the strength of 3,237 deliveries. The performance was good for second-place on the overall diesel delivery list, as the Passat trailed the top-selling VW Jetta TDI by 323 units. The brand's other diesel-powered entries—the TDI variants of the Golf, Beetle and Touareg—combined for approximately 1,000 sales.
More impressively, the award-winning Mercedes-Benz GL-Class SUV became the month's third diesel with sales pushing over into four-digit territory. Motor Trend's 2013 SUV of the Year realized 1,011 deliveries in March; not only did that mark a jump of more than 132 percent, but it also represented 36 percent of the nameplate's total sales. That compares to an industry in which diesels accounted for just .77 percent of overall deliveries in March.