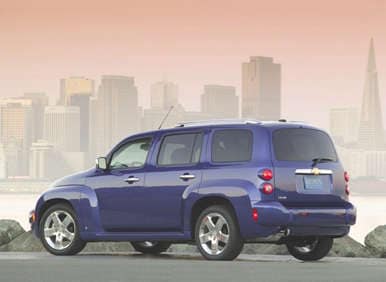 Full-size pickup trucks might be tried, tested and true but they aren't the only way to haul a hefty load from one place to another. With such a wide range of crossovers currently available, it's not always easy to know what exactly will fit inside the cargo bay of a given vehicle. With that in mind we decided to put our heads together and come up with a list of some of the bulkier or more unusual items that a modern crossover could handle.
Let's take a look at what we can make fit inside our list of eight alternative haulers and find out just how practical it can be to forgo the pickup truck route in the search for a more unique cargo handling solution.
01. 2010 Ford Explorer Sport Trac
The 2010 Ford Explorer Sport Trac maintains a close link to the pickup truck world thanks to its 4.5-foot open cargo bed that is grafted on to the rear of the standard Explorer's five-passenger cabin. The Ford Explorer Sport Trac's truck bed is a little bit shorter and a little bit narrower than a standard pickup, but it does offer a two-tiered storage solution thanks to the bed's notched cargo management system. The Sport Trac also offers three in-bed "trunks" for protecting gear from prying eyes.
The 2010 Ford Explorer Sport Trac is 17 inches longer than the SUV edition of the Explorer in order to accommodate the addition of the cargo bed. With roughly 40 cubic feet of total storage space available, there's a lot of room riding out back. You won't be able to fit a slab of 4x8 plywood between the rear fenders (45-inches of clearance between them) but you can definitely load up the Sport Trac with a pair of dirt bikes, a rider lawn mower or a couple of barbecues, especially if you install a bed extender for a few more inches of additional length.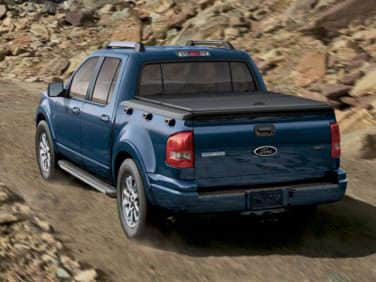 02. 2011 Chevrolet Traverse
The 2011 Chevrolet Traverse gets a lot of attention for its ability to handle as many as eight passenger across three rows of seating. What many people don't know is that the Chevrolet Traverse also boasts an equally impressive cargo volume with the second and third set of accommodations out of the picture. 116.4 cubic feet is a ton of room - enough space to swallow 72,750 ping pong balls, for example. Not into ping pong? No problem, as the Traverse can also transport 25,000 hockey pucks (depending on how you stack them). For those who aren't feeling particularly sporty, then the full-size Chevrolet crossover can haul an eight-foot ladder, a stack of paint cans and full load of scaffolding without breaking a sweat thanks to its lengthy interior.
03. 2011 Mazda Tribute
The 2011 Mazda Tribute sport-utility vehicle is a five-passenger option that also provides 67.2 cubic feet of total cargo space. What can you cram inside the compact Mazda Tribute with the second row of seating folded forward? The answer might surprise you, as 67.2 cubic feet is the equivalent of roughly 4,200 cans of Coke. That's a lot of trips to Costco. Of course, if you wanted to use the Mazda Tribute in a healthier manner your could always park two bicycles upright, side by side behind the front row - perfect for working off that sugar buzz.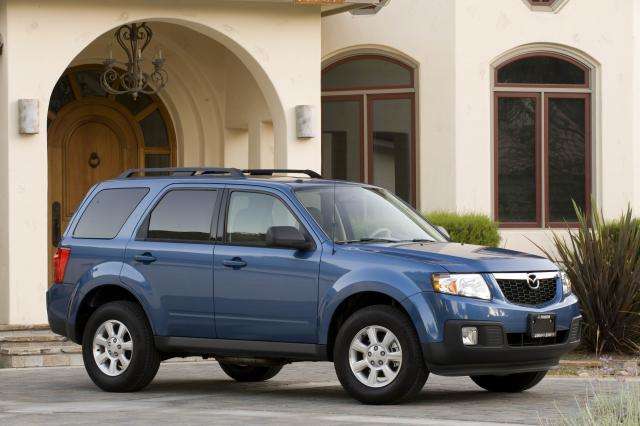 04. 2011 Chevrolet HHR
The 2011 Chevrolet HHR is a compact crossover that comes in a panel version that deletes the vehicle's rear glass and opens up the interior somewhat to offer as much as 63 cubic feet of total space behind the front two seats. The completely flat load floor in the Chevrolet HHR panel edition makes for some intriguing hauling possibilities. The biggest surprise lurking inside the HHR? Its cargo area is actually eight feet in length, which makes it a reasonably pickup replacement for contractors who regularly need to haul construction materials to the job site but who want something that offers much reasonable fuel economy than a big truck. That eight feet of total length means you can probably also squeeze a bouncy castle in the back and be a hit at neighborhood birthday parties too.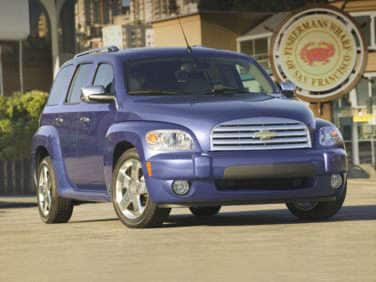 05. 2011 Ford Escape Hybrid
Despite the need to accommodate the battery pack for its electric motor, the 2011 Ford Escape Hybrid doesn't give up any interior room to its gasoline-only sibling. The five-passenger Ford Escape Hybrid counts 66 cubic feet of internal space to store all of your stuff on top of its formidable fuel mileage rating. The Escape Hybrid is a good choice for hitting the beach, because not only can it handle a stack of coolers packed with picnic snacks and beverages but it can also haul surfboards of between eight and nine feet in length - if you don't mind a bit of overhang on the front passenger seat. Whether you hang ten on the waves or prefer the open-water fun of wind surfing, the Escape Hybrid has you covered.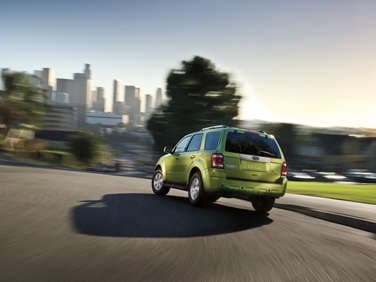 06. GMC Acadia
Like its Chevrolet Traverse cousin, the 2011 GMC Acadia is applauded for its ability to carry a maximum of eight passengers without presenting the parking garage dilemma that dogs so many truck-based full-size SUVs. The GMC Acadia's 117 cubic feet of total cargo space also renders it extremely useful for a wide ranging of transportation tasks, especially with the gaping maw of a rear hatch that the vehicle has to offer. For example, forget a roof rack - the Acadian can handle an eight-foot kayak with ease. Actually, you can even fit more than one inside if you have a particular talent for stacking and excellent spatial awareness. Not too many other crossovers can boast the ability to haul personal watercraft without a trailer.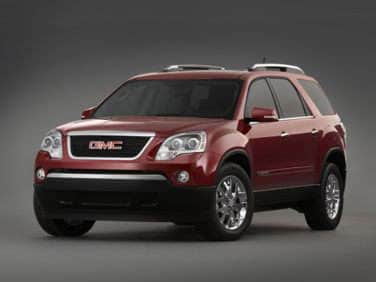 07. 2011 Ford Flex
The 2011 Ford Flex has often been compared to the surf wagons of old due to its flat roof, long wheelbase and slab-sided styling. It also doesn't hurt that the Ford Flex also offers 83 cubic feet of interior space if opting to use the full-size crossover for hauling gear instead of (up to seven) passengers. Since we've already covered surfboards on this list, however, we're going to go in a different direction with the Flex and instead highlight its ability to keep perishable foods, drinks and other supplies cool and fresh no matter how hot it might be outside. No, the crossover doesn't feature a styrofoam-lined interior - it comes with the option of a second row refrigerated console. Moving beyond food and drink, the Ford fridge is also very handy for protecting sensitive medication while on an extended road trip, which can mean leaving portable coolers behind at home and freeing up additional space in the vehicle for other important items.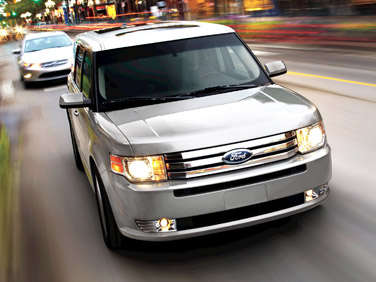 08. 2011 Chevrolet Avalanche
The 2011 Chevrolet Avalanche has the advantage of sharing its basic platform with the Chevrolet Silverado pickup truck. Unlike the Silverado, however, the Chevrolet Avalanche offers a "mid-gate" feature that allows its cargo area to expand into the passenger compartment when the need arises to carry equipment that is just a bit too long for the vehicle's five-foot, three-inch truck bed. Eight feet of contiguous storage space means almost any trip to Home Depot can be accommodated within the Avalanche's cavernous cargo hold. The open bed means hauling a piano, a full drum kit and a stack of amps is also in the cards - but don't worry, I'm sure that the reason they invited you to join their band was because they appreciated your musical skills, not because they saw what you had parked in your driveway.