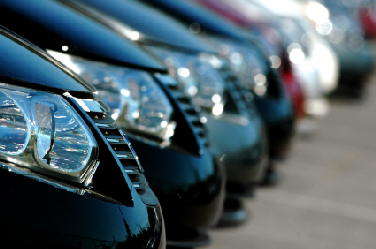 As most of us know, the state of the hybrid market is expanding. So much so, in fact, that hybrid vehicles have finally begun to creep into the luxury sector. As of the 2009 model year, most of these high-end hybrids are springing forth from Lexus factories, but that should soon change. While many future hybrid cars will focus on bringing the MSRP of green technology down, others are working on sending hybrid prices skyrocketing. To put it all in perspective, here is our luxury hybrid roundup, which features current models, and lists a few that will be in dealerships soon.
(MSRP: $42,000 / 25 MPG combined)
The Lexus RX 400h is a midsize luxury SUV. The lone trim level offers high-end amenities such as 10-way power seats, wood interior trim, dual-zone AC and power liftgate. Optional features include moonroof, navigation system with rearview camera and DVD entertainment system.
Under the sleek, modern exterior, the RX 400h houses a 3.3-liter V6 engine that is mated to electric-drive generators. Total power equates to 268 horsepower, allowing the SUV to go from 0 to 60 mph in approximately 8 seconds. EPA estimated fuel economy is 27 mpg in the city and 24 mpg on the highway.
(MSRP: $54,900 / 23 mpg combined)
Launched in 2007, the Lexus GS 400h was one of the first luxury hybrids to hit the market. Presently, it remains the only luxury hybrid in the mid-size sedan vehicle class. All the expected comfort and convenience of a Lexus sedan is present and accounted for, with standard features that include adaptive xenon headlights, sunroof, rearview camera, heated and cooled front leather seats and adaptive suspension dampers.
A 3.5-liter V6 engine serves as the main power source for the Lexus GS 400h. Combined with the electric motor and continuously variable transmission (CVT), the hybrid zips along with a pleasant 340 horsepower. Lexus quotes the 0-to-60 mph time at 5.2 seconds. Throw in decent fuel efficiency - 22 mpg in the city and 25 mpg on the highway - and the GS 400h is an all-around good buy for the nature-sensitive upper classman.
(MSRP: $106,710 / 21 mpg combined)
Sporting a 6-figure price tag, the Lexus LS 600h L is the most expensive hybrid on the market. The full-size LS 600h L builds on the GS hybrid in both size and amenities. As part of the flagship LS lineup, Lexus spared no expense, with unique features such as LED projector headlights, keyless ignition, heated and cooled front leather seats, power door closers and parking assist camera. Upgrade features are also plentiful, and include reclining rear seats, a rear massage seat, rear side airbags, DVD entertainment center and 4-zone climate control.
The largest Lexus hybrid sedan receives a 5.0-liter V8 engine. Paired to the electric engine and a CVT, the LS 600h L musters 438 horsepower and a reported 0-to-60 mph time of 5.5 seconds. EPA estimated fuel efficiency is 22 mpg in the city and 20 mpg on the highway.
(MSRP: $72,865 / 20 mpg combined)
The lone 2009 luxury hybrid not stamped with a Lexus logo is the Cadillac Escalade. It's also the only full-size luxury hybrid available. The single trim comes standard with a bevy of standard features you'd expect given the high price, including 22-inch rims, 3-zone climate control, rear park assist, OnStar, 10-speaker stereo system, and heated and cooled leather front seats, Optional equipment is scarce, but includes an engine block heater and power-retractable running boards.
Powering the Cadillac Escalade Hybrid is a 332-horsepower 6.0-liter V8 engine. Two 60-kilowatt and a cylinder deactivation system serve to conserve gas at low and high speeds. Models with rear-wheel drive achieve an EPA-estimated 20 mpg in the city and 21 mpg on the highway.
A couple current SUV hybrids approach the luxury standard set by Lexus and Cadillac. These include:
A number of luxury hybrid vehicles are slated for release in 2010 and beyond. Vehicles that luxury drivers should be looking forward to include: