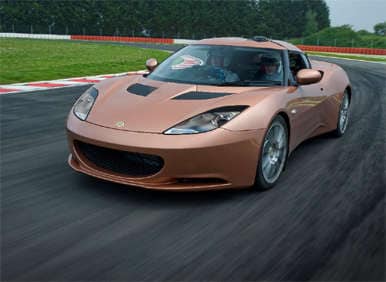 Like many other performance-oriented automakers, Lotus has been looking for a way to offer a more fuel-efficient car that doesn't lose any performance, and the Lotus Evora 414E Hybrid could be that very car. Unveiled at the Goodwood Festival of Speed, the Evora 414E Hybrid demonstrates the possibilities for more advanced vehicle technologies at Lotus, but so far, there is no word on whether the British automaker plans to make this into a production model.  
Utilizing a range-extended series hybrid system (the same type of system as what is currently used in the Chevrolet Volt), the Lotus Evora 414E Hybrid pairs two electric drive motors with a power-generating internal combustion engine. The electric motors drive the rear wheels while a three-cylinder engine capable of running on gasoline, methanol and ethanol is used to generate electric power for the car. This range-extended hybrid system is said to greatly reduce carbon dioxide exhaust emissions from 217 g C02/km (on the regular Evora) to just 55 g/km. For comparison, the Chevrolet Volt is rated at 27 g C02/km while the Toyota Prius Plug-In is 49 g C02/km; Lotus did not announce any figures for expected fuel and/or electricity consumption for the Evora 414E Hybrid.
The Lotus Evora 414E Hybrid might be a great improvement when it comes to emissions, but from the sound of it, there's plenty of performance enhancements as well. Lotus says that the system's total output is rated at 408 horsepower and 738 lb-ft of torque, and the car can accelerate from zero to 60 miles per hour in just four seconds flat with a top speed of 130 mph. During regular driving, the engine's energy and energy supplied through regenerative braking are stored in the battery pack which is then used by the electric motors for an expected 30-mile all-electric driving range, but under heavy acceleration, the motors can draw electric power both from the battery and directly from the engine.
"The Evora S has 400 Nm of torque [295 lb-ft] which in such a lightweight car is already a healthy figure. But the Evora 414E has two and a half times that amount," said Simon Corbett, Principal Vehicle Dynamics Test and Development Engineer at Lotus Engineering. "The acceleration sensation is almost indescribable. The surge of torque is like an ocean wave!"
Being a development car, many details about this new range-extended performance hybrid are still unclear, but Lotus definitely has the making of a true "green" sports car.