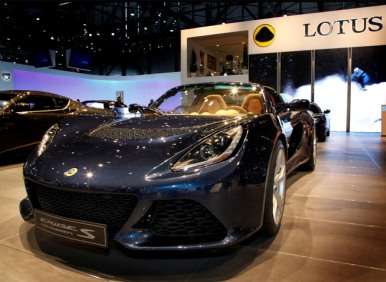 Lotus' commitment to lightweight construction has seen some wobbles in the recent past, but the company is once again going in the right direction with the 2013 Lotus Exige S Roadster. With a curb weight of just more than 2,570 lbs., the drop-top Exige S is actually about 22 lbs. lighter than its Coupe counterpart. Needless to say, that makes for an interesting contrast with convertibles like the 2013 BMW M3 as a semi-random example. The M3 Convertible is an eye-opening 441 lbs. heavier than the Coupe, and that shows up in the cars' performance disparity: The M Convertible is .4 of a second slower than the Coupe, regardless of transmission.
Now, it is true that the Lotus drivers have to make do with a manually operated soft top as opposed to the BMW's refined and power-retractable hard top, and the Exige has two fewer seats, and the car is—in Lotus' own words—"More raw than a Japanese tasting menu." But the 2013 Lotus Exige S Roadster also is exactly as fast as its hard-topped stable mate. In fact, with the ability to sprint from 0-60 in 3.8 seconds, the car is both the fastest convertible ever produced by Lotus and more than a second quicker than the open-air M3.
(Although, to be fair, engineers have limited the top speed of the 2013 Lotus Exige S Roadster to "only" 145 mph, leaving it 10 mph shy of the M3 Convertible and 25 mph under the terminal velocity of the Exige S Coupe.
It's also worth noting that because the Lotus is so light, it gets the job done with a relatively small 3.5-liter V6 engine that's been supercharged to make 345 hp and 295 lb.-ft. of torque. Transmission-wise, the 2013 Lotus Exige S Roadster will launch solely with a six-speed manual transmission, although a paddle-shifting automatic "will be considered subject to demand."
Drivers can expect to pay about $72,000 for the 2013 Lotus Exige S Roadster and are urged to contact their local dealers for availability.