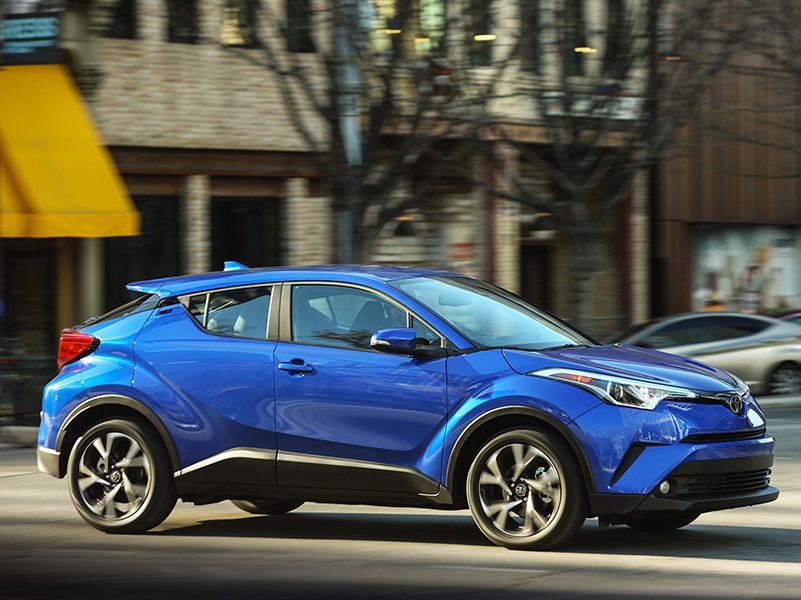 2018 Toyota C HR profile ・ Photo by Toyota
The auto industry had a busy year, with plenty of new nameplates joining the ranks. It might seem like there already are more than enough different cars available to satisfy every buyer, but the number of new models introduced proves otherwise.
These new models often flesh-out an individual automaker's lineup, perhaps adding a new performance car or slotting in a small crossover where none existed previously. Here are 10 new nameplates that made their debuts in 2018.
2018 Kia Stinger
The 2018 Kia Stinger shakes up the Kia lineup by adding a sports car to the mix. Kia isn't known for building fast cars; it's known for building affordable cars. But perceptions of Kia are changing with the introduction of the Stinger. This sports sedan is all about performance, with a choice of powerful engines including a 3.3-liter twin-turbo V6 with 365 hp.
The Stinger includes standard heated leather seats with a 12-way power driver's seat, leather-wrapped and heated steering wheel, and dual-zone automatic climate control. There's also a 7-inch infotainment touchscreen with Apple CarPlay and Android Auto. The Stinger is well-equipped even in the base trim and doesn't forget its brand heritage, with pricing starting at $31,900.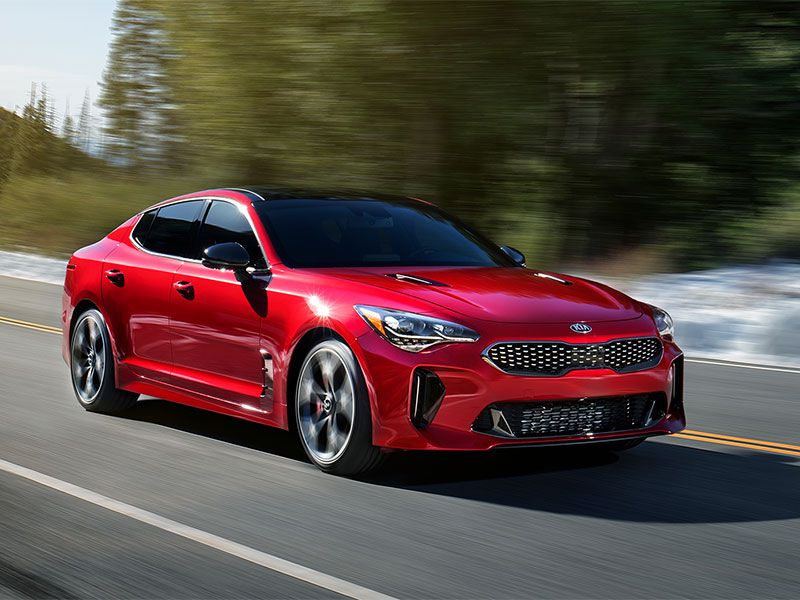 Photo by Kia
2018 Toyota C-HR
The 2018 Toyota C-HR is a compact utility vehicle (CUV) that adds a smaller crossover option to the Toyota lineup. This is a popular segment and Toyota wants to be sure no matter what size crossover you want, they offer one that fits the bill. The C-HR seats five passengers and easily makes the switch to cargo thanks to its hatchback design. There's 19.0 cubic feet behind the second row, or fold the rear seats down for up to 36.4 cubic feet of cargo capacity.
The C-HR slots below the RAV4, making it the smallest offering in Toyota's crossover lineup. It's ideal for city dwellers thanks to its small footprint, and it comes in with a starting price of only $22,500.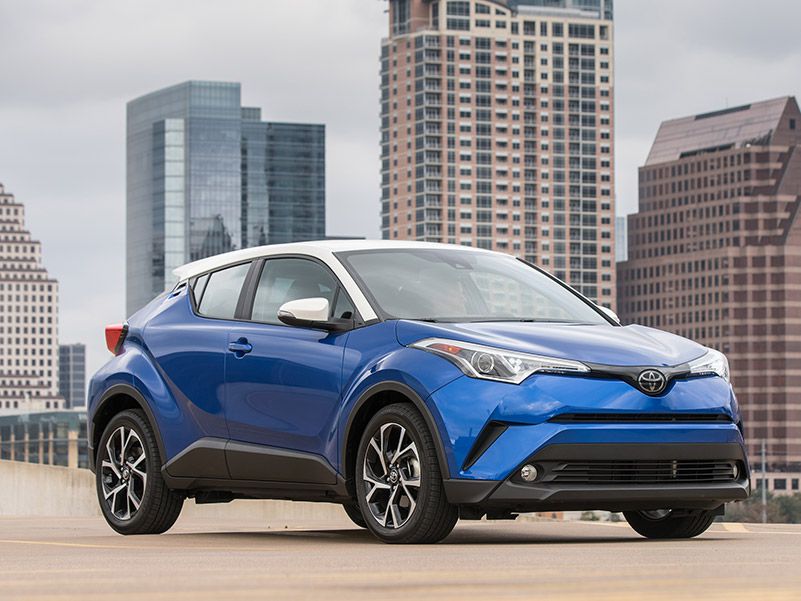 Photo by Toyota
2018 Alfa Romeo Stelvio
The 2018 Alfa Romeo Stelvio is the first SUV from the Alfa Romeo brand. But it doesn't forget its roots as a luxury performance vehicle, with a base 2.0-liter turbocharged four-cylinder engine with 280 hp. The top Quadrifoglio trim gets a 2.9-liter twin-turbocharged V6 with 505 hp and a suite of performance upgrades, including steering wheel-mounted paddle shifters, enhanced drive mode choices, and high-performance Brembo brakes.
No matter which Stelvio you choose, it delivers both performance and luxury with standard leather seats, a 10-way power-adjustable seat for the driver, aluminum accents, and a leather-wrapped three-spoke steering wheel. This is a luxury vehicle and it's priced accordingly, starting at $41,995.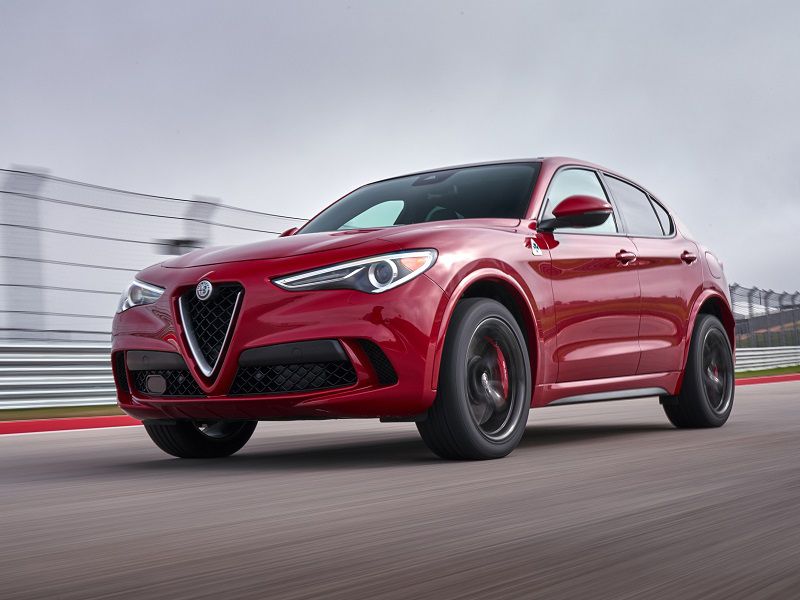 Photo by Alfa Romeo
2018 Nissan Kicks
The 2018 Nissan Kicks is a compact crossover that aims to appeal to those living in more urban environments. It sits just below the Rogue Sport, with room for five passengers and a hatchback that makes loading cargo easy. There's 25.3 cubic feet behind the rear seats, or fold them down for 53.1 cubic feet of cargo capacity.
The Kicks is a small and affordable crossover, with pricing ranging from $17,990 to $20,290. Despite that economical price point, it comes standard with a 7-inch color infotainment screen, cruise control, and hands-free Bluetooth connectivity. It also features standard automatic emergency braking across the lineup, with blind spot warning and rear cross traffic alert on all but the base trim.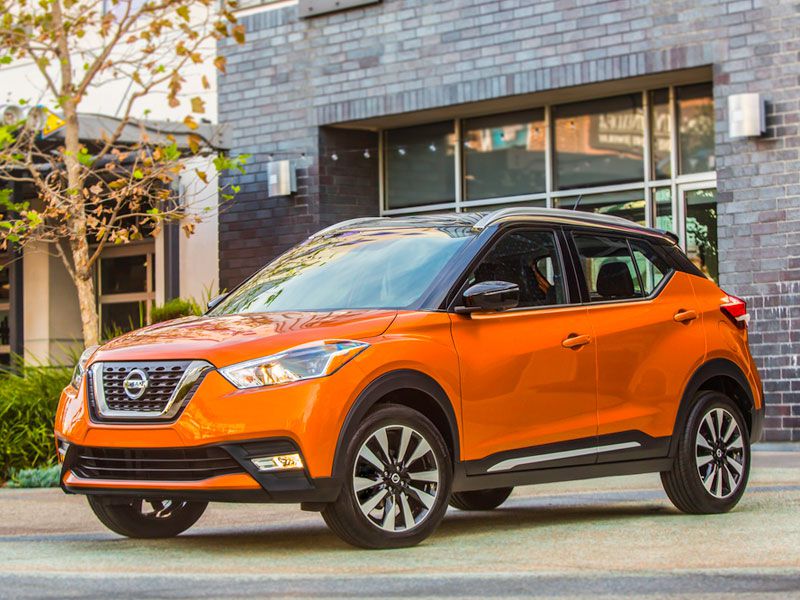 Photo by Nissan
2018 Hyundai Kona
The 2018 Hyundai Kona is a compact crossover coming in just below the Tucson in the Hyundai lineup. Once again, we have a small vehicle designed to appeal to the urban dweller who wants an SUV but needs to maneuver through narrow city streets. The four-trim range is priced from $19,500 to $28,700, making it a good choice for those on a tight budget.
Apple CarPlay and Android Auto are standard across the lineup along with a tilt and telescoping steering wheel, rear heater ducts, and a 60/40 split-folding rear seat. Leave the rear seats up and there's 19.2 cubic feet for cargo, or fold them flat and there's 45.8 cubic feet to hold all your stuff.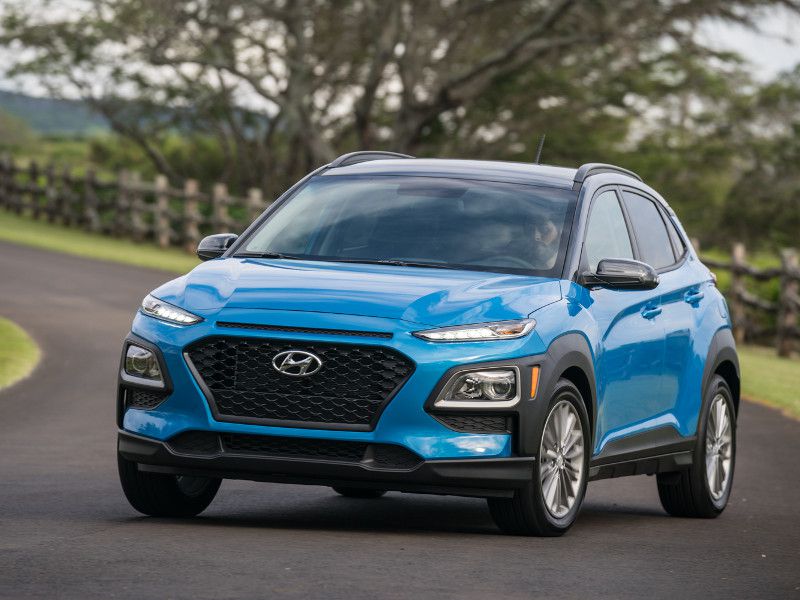 Photo by Hyundai
2018 Ford Ecosport
The 2018 Ford EcoSport joins the Ford lineup just as the company announces it's discontinuing sedans in favor of trucks, crossovers, and SUVs. The Mustang isn't going anywhere, but the rest of the Ford lineup will look very different in the next few years. The Ecosport expands Ford's crossover range, slotting in just below the Edge.
Offered in a range of four trims, pricing starts at $19,995 for the base S up to $25,880 for the top Titanium. The base engine is a modest 1.0-liter three-cylinder with 123 hp, with an available 2.0-liter four-cylinder that ups the number to 166 hp. Front-wheel drive is standard, with the option for four-wheel drive on the SES trim only.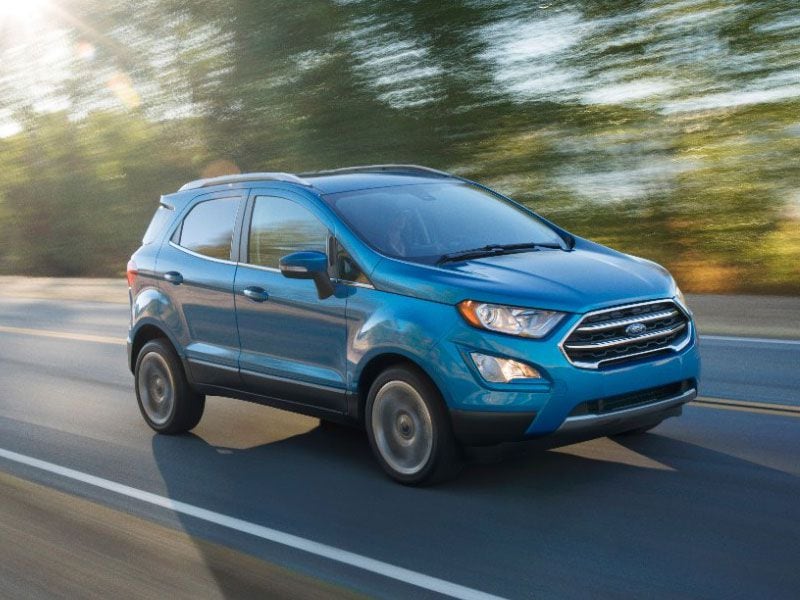 Photo by Ford
2018 Mitsubishi Eclipse Cross
The 2018 Mitsubishi Eclipse Cross is a new crossover that that sits just below the existing Outlander. It's available in a range of four trims with standard all-wheel drive, and the option for front-wheel drive on the base model only. Power comes from a 1.5-liter four-cylinder engine with 142 hp that gets up to an EPA-estimated 26 mpg in the city, 29 mpg on the highway, and 27 mpg combined.
Standard features include a 7-inch infotainment touchscreen, Bluetooth connectivity, USB port, cruise control, and dual-zone automatic climate control. This affordable crossover choice is priced from $23,295 to $30,395.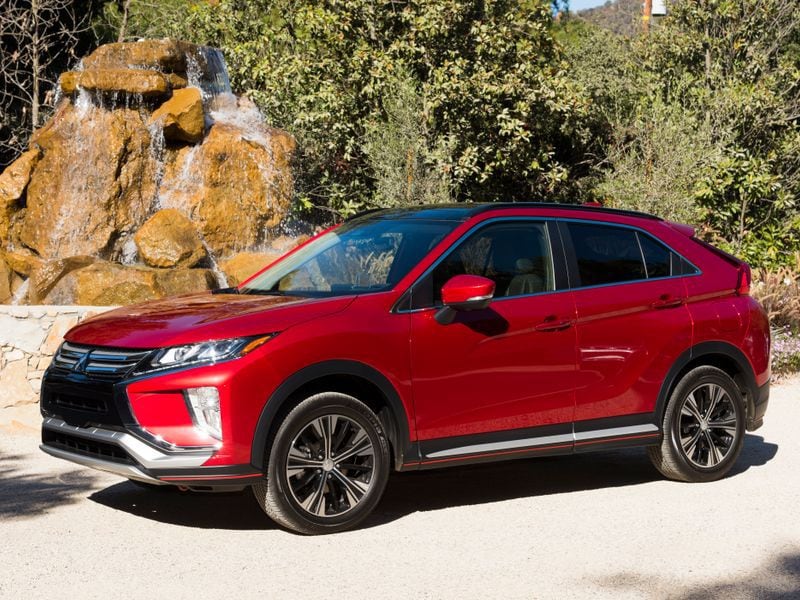 Photo by Matt Landish
2018 Jaguar E-Pace
The 2018 Jaguar E-PACE is a compact crossover that comes in just below the existing F-Pace SUV. While many crossovers are bargain vehicles that target those on a tight budget, the E-Pace is different. This is a high-end performance vehicle that fits in beautifully with the rest of the Jaguar lineup. It looks like a Jaguar, drives like a Jaguar, and has all the luxury you'd expect from Jaguar, priced from $38,600.
The base engine is a 2.0-liter turbocharged four-cylinder with 246 hp. It has a top speed of 143 mph, with a 0-60 mph time of 6.7 seconds. The Jaguar E-PACE offers the versatility of a crossover with all the fun of a performance vehicle.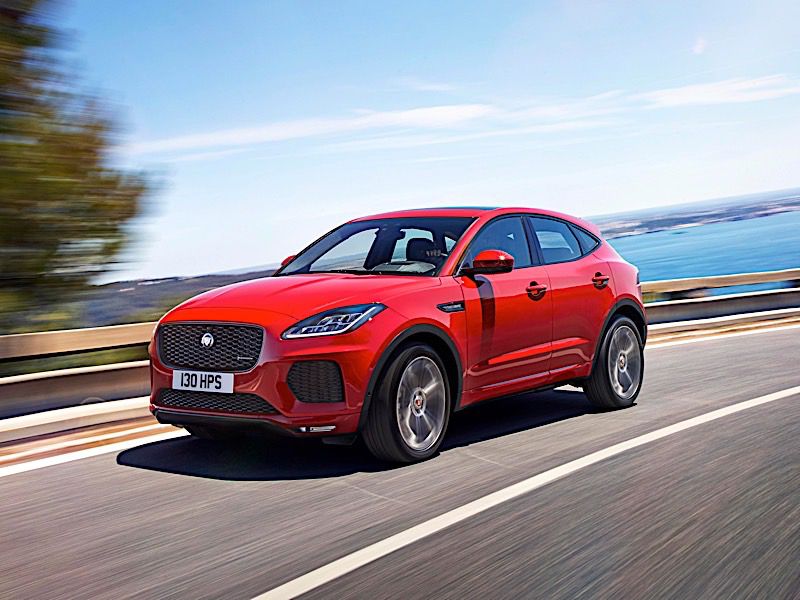 Photo by Jaguar Land Rover
2018 Range Rover Velar
The 2018 Range Rover Velar sits in between the Evoque and Sport as a new midsize luxury suv. This powerful and capable SUV has three available powertrains, including a 3.0-liter supercharged V6 with 380 hp. There's room for five passengers, with 34.4 cubic feet for cargo behind the rear seats or a generous 70.1 cubic feet with those seats folded down. The Velar also can tow up to 5,512 pounds of additional cargo.
The Velar combines its capability with performance. The V6 has a top speed of 155 mph and will go from 0-60 mph in 5.3 seconds. The luxurious Range Rover Velar ranges in price from $49,900 to $89,300.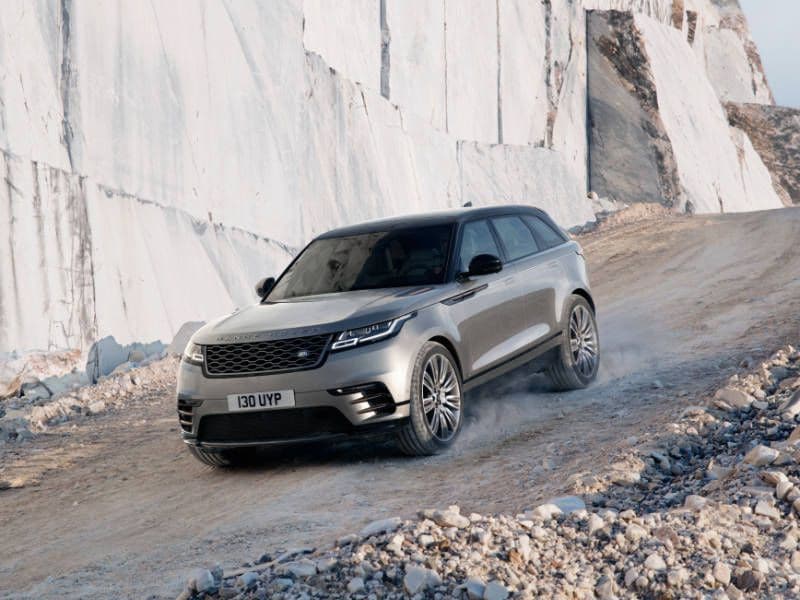 Photo by Jaguar Land Rover
2018 Lexus LC
The 2018 Lexus LC luxury coupe sits at the top of the lineup alongside the flagship LS sedan. It has a powerful 5.0-liter V8 engine that boasts 471 hp and 398 lb-ft of torque paired to a 10-speed automatic transmission. Top speed is 168 mph, and it does 0-60 mph in a cool 4.4 seconds. If you're looking at the Lexus LC, then you need to find a track to drive it on so you can truly experience all it has to offer.
Standard features include leather seats that are 10-way power-adjustable for the driver, paddle shifters, aluminum scuff plates, and Lexus Enform infotainment with a 12-speaker audio system. Pricing starts at $92,000.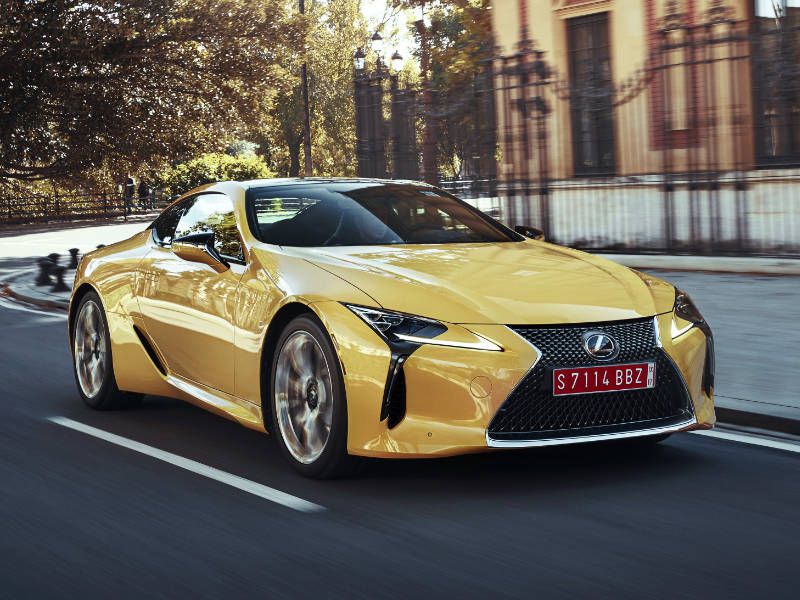 Photo by Lexus