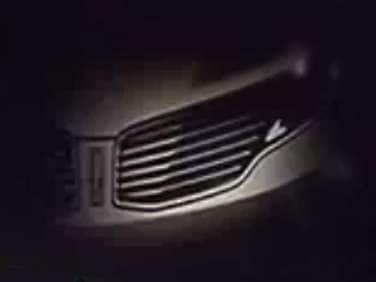 During a press conference at the 2011 Los Angeles International Auto Show for the newly updated 2013 Lincoln MKS and Lincoln MKT, Lincoln may have given a sneak peak at some very important future products. As a part of its plan to introduce seven all-new or significantly refreshed models by 2014, Lincoln confirmed that the first all-new model would be unveiled at the Detroit Auto Show in January, the 2013 Lincoln MKZ. During the presentation, a quick flash on the screen showed the new face of the MKZ, while a longer, sleeker four-door coupe model was also teased in the video.
Judging by the teaser image shown here, the 2013 Lincoln MKZ will ditch the vertical slats in the grille in place of a fewer horizontally oriented inserts. Also, the headlights will now be integrated into the grille using a common trim (likely chrome) which will give the car's face a more contemporary appearance. Aside from this image, not much else is known about the second-generation MKZ except for the fact that it will still share its platform with the next-gen Ford Fusion which is said to be receiving a design based on the 2011 Ford Evos Concept. Even more promising for these new mid-size sedans, the 2013 Fusion and 2013 MKZ will share very little, if any, sheet metal further distinguishing Lincoln's luxury image.
MKR-inspired Four-Door Coupe
While the new MKZ is a promising new direction for Lincoln, it still needs to expand its line-up to compete with Lexus, Cadillac and other luxury automakers. Fortunately, the presentation video at the L.A. Auto Show may have pulled back the curtain on a new four-door coupe for Lincoln which could become a much-needed halo vehicle. During a brief video with Mark Fields, Ford's president of the Americas, a clay model was shown in the background. This car featured a sleek roofline, long hood and an upright front end that would look really nice sitting next to an Audi A7 or Jaguar XJ. This clay model could very well be the production version of the popular 2007 Lincoln MKR Concept, but there are a handful of changes including a more rounded roofline that stretches further back into the decklid, different wheels, smoother side body lines and stretched side window opening at the rear doors (faint lines are evident in the exclusive image shown here). Sadly, the rear portion of the clay model was obscured, so there is no indication as to whether the MKR's MarkVIII-inspired rear is still in the plans. What is clear, though, are promising lines of the raked windshield, the flared wheel arches and the upright front fascia.