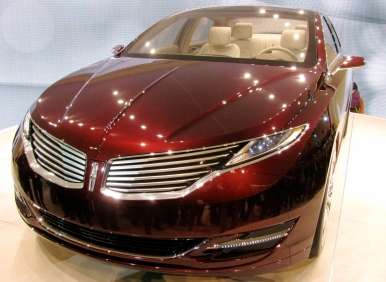 While Ford rang up a healthy sales total in 2011, topping 2 million deliveries to lead all U.S. brands, Lincoln remained in ye olde persistent vegetative state—selling just 85,643 units for a .2 percent slip as compared to 2010. But the division's vital signs recently took a definite turn for the better at the 2012 North American International Auto Show in Detroit, where the Lincoln MKZ concept was unveiled.
According to the party line, the MKZ concept "strongly hints at the production model arriving in dealerships later this year, as well as Lincoln's design future." That's good news for all Lincoln lovers, as the vehicle is a flat-out stunner, inside and out. Most importantly, although the MKZ concept does follow the all-new Ford Fusion in ditching the traditional three-box sedan design, what it doesn't do is simply swap a few Blue Oval cues for Lincoln ones—it truly speaks its own design language.
Particularly notable is the new twist—of 180 degrees—given to the Lincoln split-wing grille. With horizontal instead of vertical bars, the grille gives the MKZ concept a wider-looking stance that's enhanced by a long, flowing roofline, which, in turn, boasts a panoramic glass roof. The gentle slope of the C-pillars and sail-panel area provide another nontraditional accent that helps the vehicle stand out, while a smooth, curving rear fascia, with full-length taillamps and asymmetric quad exhaust tips, take the car to a clean, crisp finish.
The same use of streamlined, sweeping shapes and sculptural elements also helps define the interior, as does Lincoln's hallmark attention to technology and sustainability. For example, instead of a gearshift, the MKZ concept showcases a push-button transmission, and in lieu of a typical gauge cluster, the car includes a 10.1-inch, driver-configurable LCD screen with Thin Film Transistor technology. Plus, in addition to bright aluminum and satin interior accents, there's also plenty of "responsibly harvested poplar wood."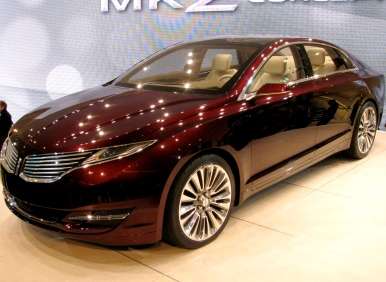 Beyond the car itself, Lincoln introduced a new positioning strategy at the show as well, and this could be a major key to getting the division off of life support. In its basics, the new effort will make the most of Lincoln's relatively small volume to provide a significantly more personalized ownership experience—something the brand's execs believe is missing from the typical German and Japanese luxury marques.
Which probably helps explain why Derrick Kuzak, Ford Motor Company group vice president for Global Product Development, was quoted as saying: "With the Lincoln MKZ Concept, we are not introducing a new car. We are essentially introducing a new brand. The MKZ Concept is the next step in the reinvention of Lincoln, something we've been quietly but aggressively pursuing."