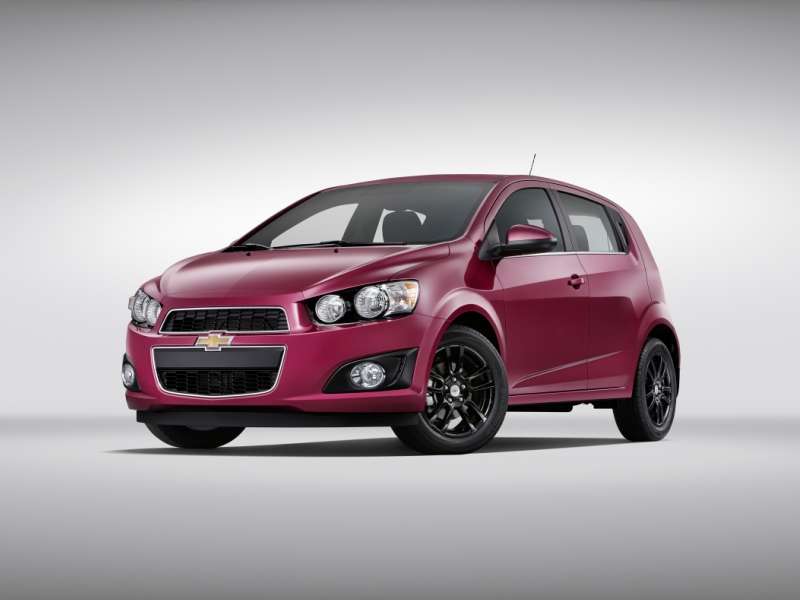 The 2014 Chevy Sonic will gain some new visual appeal for the next model year, with the Bowtie Brand set to introduce two limited-edition exterior colors for the strong-selling subcompact. A shade-shifting Deep Magenta Metallic will be available on the 2014 Chevrolet Sonic from August through October of this year, then Cool Blue, described by the brand as a "greyish, dirty blue," will be offered from November through January of 2014.
The color choices were the result of some pretty intensive research on the part of GM designers, who looked to the worlds of fashion, consumer products and high-end furniture galleries for their inspiration. And for good reason, too.
"We know that about one-third of our Sonic buyers note exterior color as an 'extremely important' factor in their purchase process—a higher percentage than other small car buyers," said Michelle Killen, lead creative designer in General Motors' color and trim studio and exterior paint expert for Chevrolet.
Needless to say, the new limited-edition colors for the 2014 Chevy Sonic were created specifically to appeal to those buyers, and the first already seems to have hit its target.
"A car in a distinctive color is really the ultimate statement piece, especially to my generation who is now embracing metallic across their wardrobes, furniture and accessories," added Justin Livingston, color trend expert and founder of fashion blog Scout Sixteen. "The Chevrolet Sonic in Deep Magenta Metallic expresses an individual's personality and tells people that they embrace style. Plus, this richer magenta tone works against a lot of skin tones and is practical for anyone who's willing to take a risk—both male and female."
In other news about hues for the 2014 Chevrolet Sonic, Chevy will introduce Dragon Green to its permanent palette in the first quarter of next year.