Carbon-fiber Upgrades Help Delete 200 lbs. of Curb Weight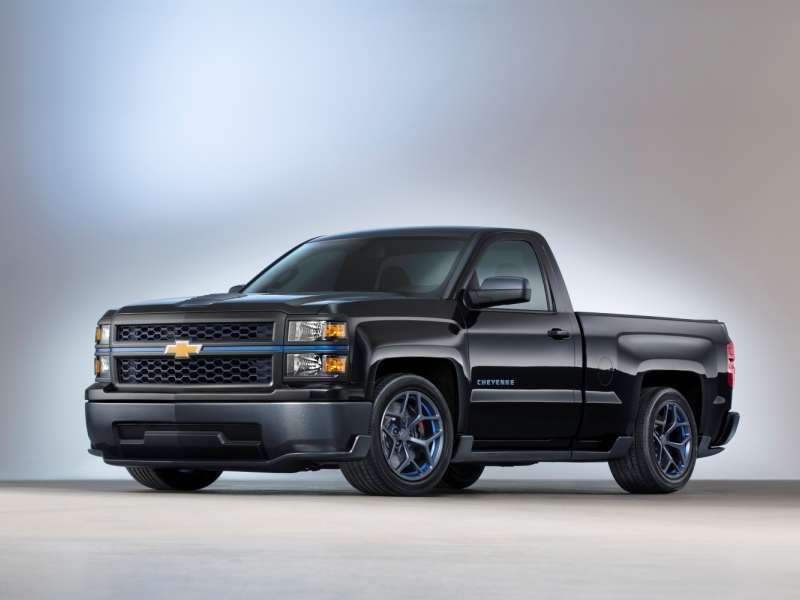 Even with a notably backward-looking name, the 2014 Chevy Silverado "Cheyenne" concept truck could represent the future of the full-size pickup segment when it debuts in Las Vegas at the 2013 SEMA Show. And no, it's not because the SEMA-bound Silverado "delivers a greater balance of performance and efficiency than any other full-size truck in Chevrolet's history," according to Chris Perry, vice president of marketing for the brand.
The big deal here is that this 2014 Chevy Silverado concept relies on a fairly extensive use of carbon fiber to achieve that feat. The lightweight, high-strength material has, of course, become common in many of today's high-performance vehicles, but it's just now that industry efforts have progressed to the point where carbon-fiber is inexpensive enough to enter the mainstream. Once it does, it should provide a significant lift for fuel-efficiency numbers by helping engineers to lower vehicle weights.
For example, the 2014 Chevy Silverado Cheyenne, in a regular-cab configuration, weighs about 200 lbs. less than its production counterpart thanks in part to a carbon-fiber tailgate, bumpers and inner cargo box. Its restrained ground-effects kit also is made of carbon fiber, and other high-tech materials are put to good use as well, courtesy of the same Brembo carbon-ceramic braking system that stops the Chevy Camaro Z/28, aluminum Z/28 wheels and an aluminum driveshaft, and composite rear leaf springs.
"Lightweighting is a time-honored method of making the most of a vehicle's performance which Chevrolet has demonstrated time and again with vehicles like the original 2001 Corvette Z06 and the 2014 Camaro Z/28," added Perry. "And like those vehicles, the Cheyenne complements its lower weight with more horsepower."
In this case, with a 6.2-liter V8 that's not offered on retail regular-cab models, the SEMA concept packs 420 horses and 460 lb.-ft. of torque. That's an additional 65 horses and 77 lb.-ft. of torque as compared to the most powerful similarly cabbed production version of the 2014 Chevy Silverado.
As for when customers can expect to see carbon fiber in the Chevy Silverados they see at dealerships, here's the unsurprising party line from Perry: "It is only a concept right now, but we are continually exploring new ways to give Silverado customers more."