ES 350 To Be The First Model In The U.S.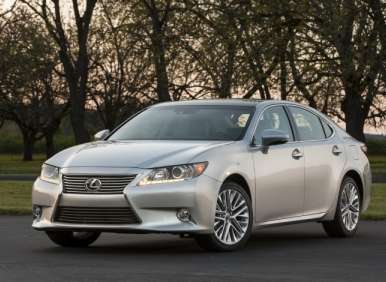 September 1989 was an important date for Toyota as the company launched their luxury brand, Lexus. Since that time, the luxury automaker has grown from two models, the LS and ES; to a full lineup of sedans, SUVs, and crossovers.
All without building one in the U.S. Lexus imports all of its vehicles from either Japan or Canada to be sold in the U.S. That will be changing.
Last Friday, Toyota announced that the Lexus ES 350 sedan will be built at Toyota's Georgetown, Kentucky (known as Toyota Motor Manufacturing, Kentucky) plant starting in 2015. This announcement marks the first time the Lexus ES will be built outside of Japan.
"Lexus was founded in the United States, so it is only fitting that we are bringing the production of luxury sedans for our U.S. customers back to where the brand was born. Today's announcement is a major step in our Global Vision to make ever better cars and trucks, give regions greater autonomy to make the products their customers want and achieve sustainable growth globally," said Akio Toyoda, president of Toyota Motor Corporation during a press conference at the plant.
Toyota Motor Manufacturing, Kentucky was established back in 1986 and is Toyota's largest manufacturing facility outside of Japan. The facility builds four and six-cylinder engines, and assembles the Toyota Camry, Camry Hybrid, Avalon, Avalon Hybrid and Venza.
Toyota will be investing around $360 million in the Georgetown plant to bring up a new, dedicated assembly line for the ES. This will boost overall production of the Georgetown plant to 550,000 vehicles per year and bring an additional 750 jobs.
"The decision to move ES 350 production to Kentucky is a true tribute to the hard work and commitment to excellence of every single Toyota team member at this plant. We deeply appreciate the tremendous support we have received from our community, from our local suppliers and business partners, and from Governor Beshear and the Commonwealth of Kentucky. We look forward to strengthening further the productive partnership we have built together over the last 25 years,"  said TMMK President Wil James.