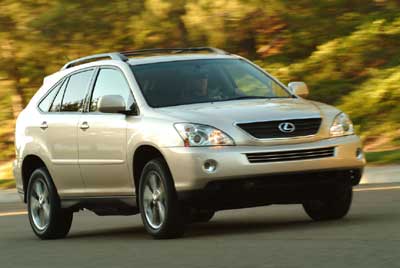 Lexus today announced pricing and availability for its much-anticipated RX 400h hybrid SUV. Due to go on sale April 15 at a base sticker price of $48,535, the RX 400h joins the 2005 Ford Escape Hybrid as the only other hybrid SUV on the market, and the only luxury vehicle built with a gas-electric powertrain. At $48,535, the base RX 400h costs about $4,585 more than its comparably equipped gas-only brother, an all-wheel drive RX 330. In addition to the hybrid system, the RX 400h has a new Vehicle Dynamics Integrated Management stability control system (VDIM) and comes standard with leather interior trim, power tilt/telescoping steering wheel, roof rack with rails, illuminated entry system, a one-touch open/close moonroof, Lexus DVD navigation system with rear backup camera, six-disc CD changer, new 18-inch wheels and HID headlamps with the Adaptive Front lighting System (AFS).
EPA Rating
The 2005 Lexus RX 400h also comes with electrically powered air conditioning and an eight-year/100,000-mile battery and hybrid system warranty. The EPA has rated the RX 400h at a combined fuel economy rating of 29 mpg, a highway fuel economy of 27 mpg, and 31-city mpg. Hybrids generally achieve better city ratings compared to highway, as the powertrain is designed to conserve fuel in stop-and-start, city and traffic driving conditions.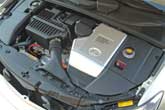 VDIM
The hybrid powertrain, which is the next generation Toyota's Hybrid Synergy Drive, combines the RX 330's 3.3-liter V6 engine with a high-torque electric-drive motor-generator, and a rear electric-drive motor-generator for all-wheel drive. The powertrain is rated at a combined horsepower of 268. According to Lexus, the 2005 RX 400h accelerates from 0-60 in 7.3 seconds.
Also new for the RX 400h is VDIM, which according to Lexus anticipates vehicle instability in virtually any direction and makes stabilizing corrections while allowing higher dynamic capability.