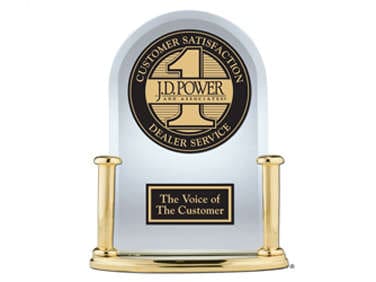 According to the J.D. Power and Associates 2012 Customer Service Index (CSI)—a closely watched measure of customer satisfaction with dealership experiences—Lexus and MINI dealers are again doing the best job of keeping consumers happy. Lexus outpointed all other luxury brands for the fourth consecutive year in the study, while MINI finished as the highest-ranked mass-market brand for the second straight year. But most of today's automakers could find some bright spots in the 2012 numbers—which is excellent news for today's customers.
All told, 28 of 33 eligible brands raised their CSI scores this year, with eight of them doing so by at least 20 points (on a 1,000-point scale). Further, the industry average climbed by 38 points to reach a score of 787 points, with the luxury average reaching 835 points and the mass-market average now standing at 778 points. The top individual gainers? Among lux brands it was Audi, which lifted its score by 34 points, while Nissan led improvements on the mass-market side with a 43-point jump in satisfaction. Looking at the rest of the industry, the following brands garnered above-average scores in the 2012 CSI:
Luxury Brands—Lexus (861 points), Cadillac (852 points), Jaguar (849 points), Acura (838 points) and Porsche (836 points)
Mass-market Brands—MINI (809 points), Buick (805 points), GMC (803 points), Chevrolet (801 points), Hyundai (791 points), Ford (786 points), Volkswagen (785 points), Kia (782 points)
To come up with those scores, the brands are evaluated in five different areas, relying on responses from more than 84,000 owners of vehicles from the 2007-2011 model years. Those individuals, who had visited dealerships for maintenance and/or repair work during calendar-year 2011, rated their satisfaction with their service quality, service initiation, service advisor, service facility and vehicle pick-up experiences.
Based on this data, J.D. Power pinned much of the overall rise in satisfaction on the fact that more service customers were visiting dealerships for maintenance as opposed to repairs: 72 percent of survey respondents reported that their most recent service visit was for the former, up 9 percentage points from the previous CSI study. The difference has a notable impact on customer attitudes, because routine maintenance is generally less expensive and time-consuming than repair work, and customers are simply more satisfied when they're laying out fewer dollars and spending less time waiting on their vehicles.
Chris Sutton, senior director at J.D. Power, also noted that: "Steady improvements in vehicle quality, longer intervals between recommended service visits and a higher mix of maintenance service events have had a positive effect on overall dealer service satisfaction.
A close reading of the study also provides some hints about what service customers can expect in the near-term future. For one thing, with auto sales trending downward in past years, there have been fewer vehicles on the road, and therefore fewer vehicles visiting dealership service departments. This, in turn, has allowed service personnel to provide a more focused experience for each visitor. But now that sales are once again on the rise, folks will have to keep a sharp eye on which dealerships are able to still satisfy their customers while dealing with increased service volume.
Since companies now realize how important service satisfaction is to their business, savvy dealerships will be going the extra mile to make maintenance and repair visits as friendly as possible.