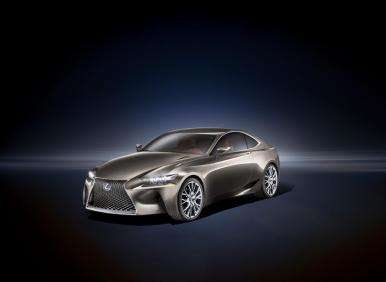 To say 2012 was a good year for Lexus would be an understatement. Like almost every other automaker in the world, Lexus saw record sales last year. With a model line featuring all new or heavily revised models, Lexus is hoping to take 2013 by storm. To help build on all this momentum, Lexus is bringing its full suite of models to the Chicago Auto Show in a few weeks. Visitors to the Lexus booth will be greeted by the new ES and LS sedans as well as the LX and RX SUVs.
Each one of these models has been redesigned to feature Lexus' new "spindle" grille design. Accompanying this collection of cars will be the new 2014 Lexus IS F Sport that was just unveiled in Detroit. To give the booth a bit more spice, the LFA Nurburgring Edition, complete with 562 horsepower V10 engine, and LF-LC will be on hand. Visitors to the 2012 Chicago show may remember the LF-LC as the Best Concept winner of the show, but the LF-LC on display will not be the ruby red car of last year. This year Lexus is bringing the second iteration LF-LC Blue Concept that made its debut at the Australian Motor Show in October of last year. Other cars to be displayed at the booth include a SEMA-modified LS, orange and black Lexus IS F CCS-R, and the one-off IS F that competed in last year's Pikes Peak International Hill Climb.
Look for our Chicago Auto Show coverage to start in early February.