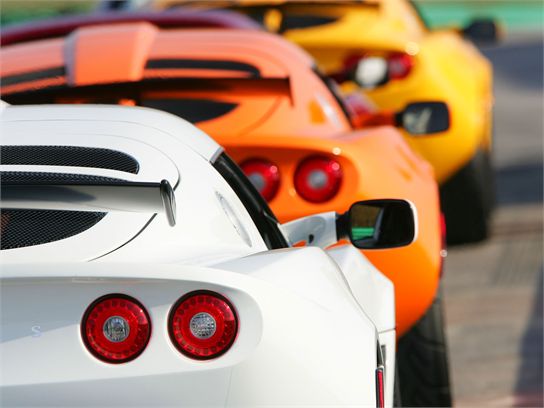 There's a downhill grade on eastbound California Interstate 15, just before you get to the Nevada border. After hours of desert darkness, when you get to the top of that hill you can see the brassy Stateline casino lights. From there, those casinos shimmer like jewels perched in the middle of ink-black velvet. In between and in the black, however, lies an entirely different reality. Scarcely noticed by the endless columns of vehicles speeding downward and toward the lights and jackpots of Vegas, there is always at least one busted hulk of a car on its back, burned out, twisted and mangled, the victim of a collision between physical space and speed.
A straight downhill run. Good visibility. Yet there is always a sad story at the edge of the interstate. It stretches out throughout our lives, from driving like freaks to hitting on 18 at the Mirage and getting married at the Chapel of Love. It starts young when it comes to our habits behind the wheel. We share a common illusion that we're invincible, that nothing bad will happen to us despite the fact that we drive on roads cluttered with thousands of people who are thinking the same exact thing. The reality is this: We will never drive our cars as fast as they can go. We will never handle roads that push today's vehicle systems to the edge.
Accidents happen when we're forced to push the limits, when our driving expertise meets the machinery at our fingertips and, inevitably, we tell it to do the wrong thing. We brake too hard, turn too late, go too fast and the vehicle we control doesn't get the chance to do what it was designed to do.
Maximizing the relationship between machine and man is what racing schools are all about. A day spent going crazy on a real race track is fun and creates lasting memories, but the real value is what you can apply to your daily commute long after the feeling of racing helmets and suits fade from memory. Racing school instructors are, in essence, relationship counselors between car and man - they teach us how to get along, so that, one day, when a crisis is at hand, you ask the right questions and do the right things behind the wheel.
You are driving along, doing about 70 on the freeway. Traffic is light, and there's no real danger, yet suddenly you hit a wet patch on the road. The rear of the car begins to spin around to the front. You do…
What, exactly? Time's up. By now, you're in a ditch or bouncing off the divider. The point is, you don't really know what you'll do because, like most, you don't understand the dynamics of driving, of what a car is built to do when a situation like that comes to pass. The only way to learn it is to do it, with someone sitting next to you who will break it down and explain it. That's what they do at racing schools like Danny McKeever's Fast Lane Racing School, located at the Willow Springs racetrack in Rosamond, California. Rosamond is a windswept desert town in Antelope Valley, up by Edwards Air Force Base. Willow Springs is the centerpiece of the community, a historic landmark built in 1953 and named the "fastest road in the west." Vehicles on the main track, which measures 2.5 miles, can reach 170 mph - 70 or more on some of the turns.