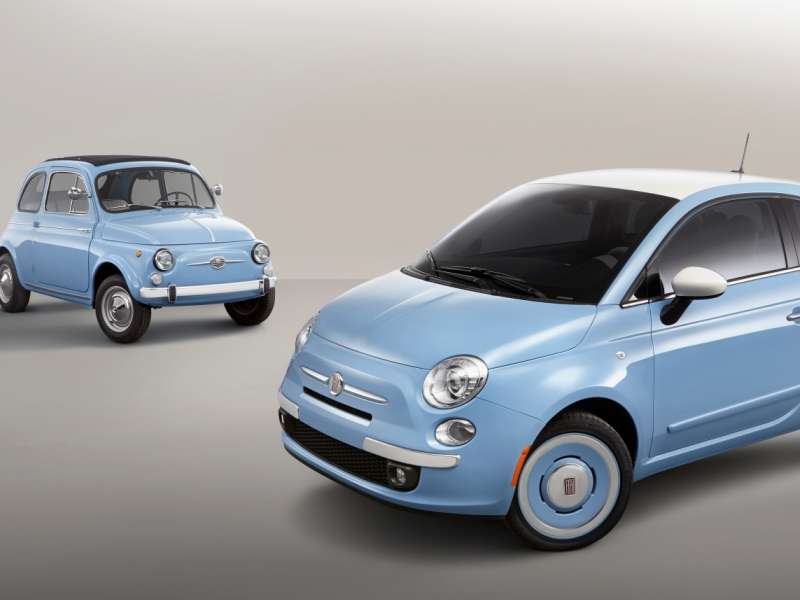 As Roman-centric readers may know, today's 2014 Fiat 500 represents the latest iteration of an Italian classic with roots dating back more than five decades. In fact, next year will mark the 57th anniversary of the launch of the original Fiat Nuova Cinquecento ("New 500"), in 1957, and that numerological coincidence brings us to the 2014 Fiat 500 "1957 Edition" that is scheduled to reach dealerships in the spring of next year.
Said Jason Stoicevich, head of the Fiat Brand for North America: "The 1957 Edition celebrates the Cinquecento, the icon of our brand, and its unique cachet of Italian style, efficiency and engaging road manners. Created for Italian car and design fans who want an added sense of the historic Cinquecento's spirit, the 1957 Edition features unique styling elements, material finishes and, of course, a manual transmission and sport-tuned suspension."  
But those who prefer letting the 2014 Fiat 500 shift for itself can get an optional six-speed automatic, which does provide a "Sport" mode for more athletically oriented transmission performance. In both cases, the 1957 Edition relies on a 1.4-liter 4-cylinder engine for 101 hp and 98 lb.-ft. of torque, along with fuel-economy grades of up to 31 mpg city/40 mpg highway/34 mpg combined.
Looking specifically at the newest member of the family, Fiat will produce a limited number of 1957 Editions, each based on the 2014 Fiat 500 Lounge model and updated/backdated with vintage-themed enhancements like:
A choice of three exterior finishes—white, light green or celestial blue—complemented by a white roof and mirror caps
Retro-style 16-inch wheels with chrome and body-color accents, as well as Fiat-logoed center caps
Classic-look Fiat exterior badges
A multi-tone interior with premium leather seating, an exclusive steering wheel with a hand-stitched leather wrap, and not-so-vintage six-speaker, 276-watt audio system
More information about the 2014 Fiat 500 1957 Edition, including details about pricing, will be announced closer to the car's on-sale date.