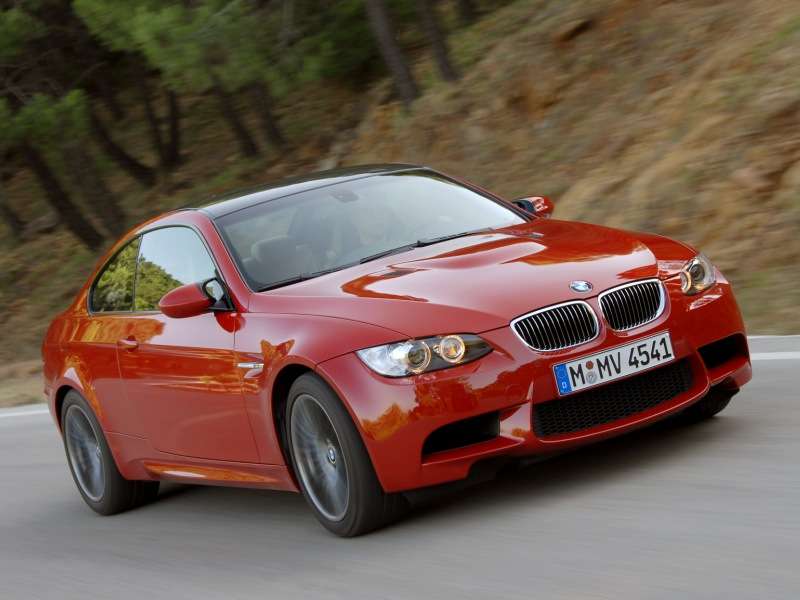 If you'd like to get your hands on a new 2013 BMW M3 Coupe—or any new BMW M3 Coupe—now's the time to make your move: The team in Regensburg, Germany, has built the last one—ever—and you can be sure that any cars still available in this country won't be for long. Of course, the spiritual successor to the 2013 BMW M3 Coupe will no doubt be part of the 2014 BMW 4 Series family, following the brand's new naming scheme of using even series numbers for coupes and odd ones for sedans, but that likely won't be until next year.
For now, the 2013 BMW M3 Coupe continues as the top choice among high-performance compact sport sedans (German division), with an MSRP of $60,100 and a full complement of race-bred components that includes a 4.0-liter, naturally aspirated V8 engine. It's a powerplant that delivers 414 hp and 295 lb.-ft. of torque and can be mated to either a six-speed manual transmission or an athletically tuned seven-speed M Double Clutch Transmission with Drivelogic technology. In either case, the top speed of the 2013 BMW M3 Coupe is electronically limited to 155 mph, but the latter gearbox, an advanced automatic unit, enables a 0-60 time of 4.5 seconds; the car showcases a 4.7-second time with the DIY transmission. For what it's worth, the 2013 BMW M3 Coupe also has been rated at 14 mpg city/20 mpg highway/16 mpg combined, regardless of transmission.
Moving forward, the 2013 BMW M3 Convertible will remain in production until September of this year, and certainly show up in an M4 drop-top configuration some time in the future, and the M3 Sedan will carry on as part of the future 3 Series roster.
As for the 2014 BMW 4 Series…
2014 BMW 4 Series Recap
We provided some details about the 2014 BMW 4 Series previously (see: http://www.autobytel.com/bmw/news/meet-the-2014-bmw-4-series-coupe-117418/), so today we'll focus more specifically on some of the advantages the new car provides over its predecessor, the 2013 BMW 3 Series Coupe, which is still at dealerships. At the heart of the matter, the 2014 BMW 4 Series will launch with a new powertrain portfolio as compared to the current Coupes, moving to the same engines—as well as the same platform—as the 2013 BMW 3 Series Sedans.
The key difference is a switch from naturally aspirated engines to smaller units that rely on BMW's TwinPower Turbo technology for better performance and better fuel economy (aided by significant weight savings). Thus, comparing the 2014 BMW 428i to the 2013 328i Coupe, the new vehicle benefits from 241 hp (+11 horses over the current car), 258 lb.-ft. of torque (an added 58 lb.-ft.), and a 0-60 time as low as 5 seconds (1.2 seconds faster). Moving up to the 2014 BMW 435i, drivers welcome a 3.0-liter TwinPower Turbo V6 that, truth be told, actually offers a tad less twisting power and the same number of horsepower as the 2013 335i, coming up with 300 hp and 295 lb.-ft. of torque. But the new 435i is still noticeably quicker than its 3 Series predecessor, with an automatically transmissioned 5.0-second 0-60 time that is a full half-second quicker than today's 335i.
Neither BMW nor the EPA has released fuel-economy ratings for the 2014 BMW 4 Series yet, but it's worth noting that the 2013 BMW 3 Series Sedans—the ones that share underpinnings with the 4 Series—can reach up to 34 mpg on the highway.
Finally, pricing for the 2014 BMW 4 Series (with premiums over comparable 2013 3 Series models) is as follows:
2014 BMW 428i Coupe—$40,500 (+$1,800)
2014 BMW 428i xDrive Coupe—$42,500 (+2,100)
2014 BMW 435i Coupe—$46,000 (+$900)
2014 BMW 435i xDrive Coupe—$48,000 (+$1,200)