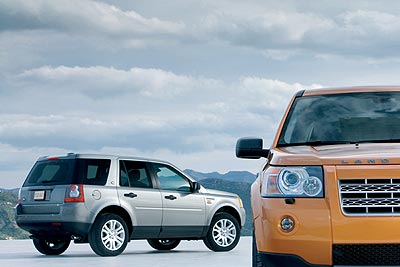 Land Rover LR2: Preview Ford called 2005 the Year of the Car. As far as we know, such titles are lacking for the 2006 and 2007 model years, so we're suggesting they be unofficially labeled the Years of the Small-to-Midsize SUV. The market is littered with them: recent introductions include the Toyota RAV4, RDX, Lexus RX 350, Acura MDX, Audi Q7, Saturn Vue Green Line, Toyota FJ Cruiser, Hyundai Santa Fe, Mercedes-Benz M-Class, Honda CR-V, Subaru B9 Tribeca, and others. The latest addition to the group is the 2007, Land Rover LR2, a redesigned and renamed replacement for the Freelander. The LR2 trades the Freelander's clunky design and underpowered engine for fresh new bodywork that more closely resembles the larger LR3 and Range Rover models and a 230-horsepower 3.2-liter six-cylinder engine. Two-door models have been scrapped, leaving a four-door LR2 as the only choice. Inside are features befitting a premium vehicle, such as a touch-screen navigation system and an upgraded sound system. And, in traditional Land Rover fashion, the LR2 comes with what the company claims is a remarkably capable all-wheel-drive system bolstered by Roll Stability Control, Terrain Response, and hill descent technology called Gradient Release Control. Pricing for the 2007 Land Rover LR2 has not been released, but given the numerous enhancements, chances are that the bare-bones model will sticker for more than 2006's $27,495 base price (including a $665 destination charge).
Why it matters
In case you haven't heard, gas prices are rising. Welcome back to society – we hope you've enjoyed your time living in a cave. It seems that $3.00-per-gallon gasoline is here to stay, with some suggesting that paying $4.00 per gallon is a distinct possibility in the not-too-distant future. That's bad news for most everyone except ExxonMobil executives and their friends in Washington. It's also a real downer for car companies with lineups consisting almost entirely of large, petrol-addicted SUVs – companies like Land Rover. Buyers are gradually shifting, or at least considering a shift to smaller, more fuel-efficient vehicles, which makes it the perfect time for Land Rover to release a more desirable and competitive small SUV like the LR2. There are a number of premium and luxury SUVs on the market – the Lexus RX 350, Acura RDX, and Volvo XC90 are just a few examples – though the LR2 might trump them all in terms of off-road capability. It'll need to – none of the competitors have the Freelander to wash from buyers' minds.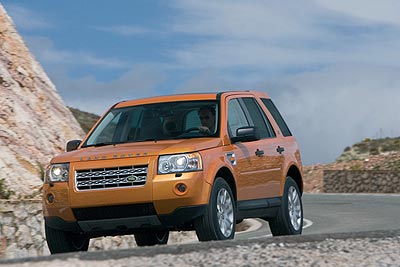 What's under the hood
One of the 2007 Land Rover LR2's most significant updates can be found under the hood. In place of the Freelander's 2.5-liter, 174-horsepower V6 lives a new 3.2-liter inline six-cylinder engine rated at 230 horsepower, putting the LR2 in the same ballpark as the 240-horsepower 2007 Acura RDX but several ponies shy of the 269-horsepower 2006 Toyota RAV4. A six-speed automatic transmission with Land Rover's CommandShift manual mode delivers power to all wheels through a permanent all-wheel-drive system. According to Land Rover, the 2007 LR2 can reach 60 mph in 8.4 seconds. Also behind the LR2's redesigned exterior is a fully independent suspension that incorporates Land Rover's Roll Stability Control and Terrain Response systems as well as a hill descent control system.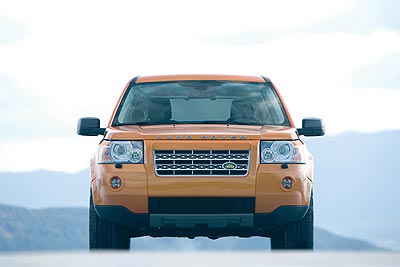 What's inside
Though exact interior dimensions remain a mystery, Land Rover claims that the 2007 LR2 will offer copious amounts of interior room for five passengers, accented by an elevated driving position and theater-type seating that allows rear riders a less obstructed view of the road. Figures have been released for cargo space – 26.5 cubic feet with the rear seat raised and 59 cubic feet with it down – compare that to 29.5/55.7 cubic feet for the Hummer H3 and 29/69 cubic feet for the Jeep Liberty. Besides its reportedly spacious interior, the 2007 Land Rover LR2 will debut with a long list of creature comforts. Among them is a push-button ignition system (we prefer the old-school key-in-the-ignition type so you never lose track of the key, but this keyless thing seems to be gaining steam), an auxiliary jack for your iPod, adaptive high-intensity discharge headlights, rain-sensing wipers, a huge sunroof, a rear park-assist system, a DVD navigation system, and an upgraded audio system.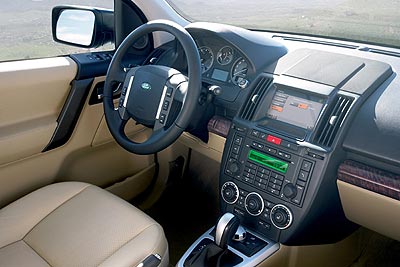 What Land Rover says
Unlike the lackluster Freelander that it replaces, Land Rover executives believe their new small SUV will attract buyers on a number of fronts. "LR2 combines the advantages of a premium sedan – such as a polished ride, accomplished performance, an attractive cabin and ease-of-use – with the attributes of a robust SUV, including go-anywhere ability, toughness, stadium seating, cabin versatility and spaciousness" said Land Rover's managing director, Phil Popham. He went on to make this bold statement: "We believe that no other compact SUV gets closer to blending these best-of-both-worlds abilities." Time and sales figures will tell, but even if the LR2 proves to be less than the best among the small SUV pack, it looks to be a notable improvement over its predecessor.
Photos courtesy of Land Rover