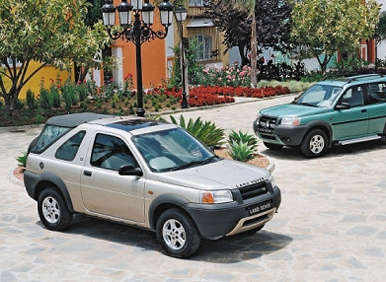 The origins of the Land Rover Freelander go all the back to the late 1980s.
Recognizing the potential to capitalize upon the cachet of the Land Rover brand in the emerging small SUV market, the company first looked to partner with another carmaker to accomplish this goal. Honda and Land Rover enjoyed a partnership back then, so that company was approached. Honda declined however and developed the CR-V on its own, eventually launching that vehicle in 1997.
Meanwhile, Land Rover had been acquired by BMW, which provided the development capital required to produce the new model. Thus, Land Rover Freelander debuted in Europe in 1997. A runaway hit, the Land Rover Freelander became the best-selling four-wheel-drive model on that continent. In fact, the success of the Freelander in Europe inspired Land Rover to bring its small SUV to North America.
Entering this market in 2002, as the first new Land Rover to come to North America since 1995, the Land Rover Freelander didn't enjoy the same success here that it did on the continent. With models like the Honda CRV, Jeep liberty, and Ford Escape available at significantly lower price points, the Land Rover name wasn't strong enough to overcome the perceived deficiencies in the Freelander's portfolio.
While the Freelander is more capable on trails and off-road excursions than many of the compact SUVs it competes with, if hard-core expeditions are your primary cup of tea, be apprised the Freelander lacks the low rang gearing of its bigger Land Rover brothers. Because of this, it might be a bit of a disadvantage in truly difficult going. On the other hand, given the way most people use SUVs anyway, this, in all likelihood won't be an issue in much of the U.S. for the littlest Land Rover.
Brought to North America toward the end of the run of its first-generation, the Land Rover Freelander was sold here for only three years before being replaced by a newer model, dubbed the Land Rover LR2 here in North America.
Thus, the Freelander model name ran only from 2002 to 2005 on this continent.
Land Rover Freelander Used SUV Buying Guide: 2002 - 2005
Featuring unibody construction, rather than the body on frame construction most SUVs employed back then, the Land Rover Freelander also ran a four-wheel independent MacPherson strut suspension system, with seven inches of wheel travel in front and eight inches of wheel travel in the back. This made it easy for the little Land Rover to climb up hills and over rocks, ford streams, and traverse obstacles.
Rather than calling it a four-wheel drive system, Land Rover referred to the Freelander's powertrain as an all-wheel drive system—the difference being the lack of a true low range transfer case. Instead, to manage the work normally accomplished by low gearing, the Freelander used its traction control system, essentially employing its braking system to do the work a low range transfer case would normally take on. However, a viscous coupling unit could also be engaged to manage wheel slip by distributing power between the front and rear axles to ensure maximum traction on slippery surfaces. The compact Land Rover also employed Hill Descent Control in 1st and reverse gears. This enabled the driver to dial in a maximum speed ofjust under six mph when negotiating steep declines.
Power came from a double overhead cam 2.5 L V-6 engine producing 174 hp and 177 foot-pounds of torque. A five-speed automatic transmission with manual shift capability routed power to all four wheels.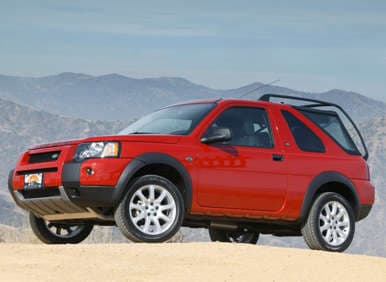 Land Rover Freelander Used SUV Buying Guide: 2002
The 2002 Land Rover Freelander was offered in three states of trim; "S", "SE", and "HSE".
The entry-level S model featured, as standard equipment; skid plates, 16-inch alloy wheels, a full-size matching spare tire, variable intermittent windshield wipers, a rear defogger, a rear window wiper, a power retracting liftgate window, and a side hinged rear door.
Its seats were upholstered in cloth, and the driver's seat had a manually adjustable lumbar support. The rear seat back was configured for split folding and also featured a folding center armrest. There were remote operable power door locks, heated exterior power mirrors, and one-touch power windows.
Cruise control, a cargo net, a front console featuring storage, cupholders front and rear, and front door pockets were also standard equipment. The Freelander also retained accessory power when the engine was shut off. Its tilt adjustable steering wheel employed a power steering system, and featured cruise control switches. There were 12V power outlets in the front and rear of the passenger compartment. Air conditioning, a cargo area light, and front reading lights were also included. The audio system employed eight speakers, an 80 W amplifier, and was fed by an AM/FM single-disc CD player stereo head unit.
Safety features included four-wheel ABS (front disc/rear drum brakes), child seat anchors, an antitheft alarm system, rear door child safety locks, and an engine immobilizer. The seatbelt system used pre-tensioners for front passengers, and included a rear center three-point belt. The Freelander S also offered traction control and electronic brake force distribution.
To the offerings of the basic S trim line, the midgrade SE model added 17-inch wheels, privacy glass, a roof rack, leather upholstery, audio controls on the leather wrapped steering wheel, and a pair of illuminating vanity mirrors.
The top of the line HSE model added a CD-based navigation system, a power glass sunroof, and a nine-speaker 240W AM/FM single-disc CD player with a CD changer controller by Harmon/kardon. The HSE's audio system also employed a subwoofer.
Land Rover Freelander Used SUV Buying Guide: 2003
The two-door open–air Freelander SE3 was introduced for 2003. This model featured removable roof panels over the front seats in addition to a removable hardtop over the rear seats and cargo area. These features meant this version of the Freelander was capable of opening itself to the elements like a Jeep Wrangler.
Or, as Land Rover purists might insist; like a Land Rover Defender.
Like the HSE, the Freelander SE3 used 17-inch alloy wheels, in addition to the navigation and high-end audio system with steering wheel mounted controls. Leather upholstery was an option, while a combination vinyl and fabric upholstery was standard equipment.
In other Freelander news, the fuel tank was enlarged for all models, improving range. The climate control system got a quieter fan, body side moldings were installed to ward off door dings, and LATCH child seat anchors were integrated into the interior design.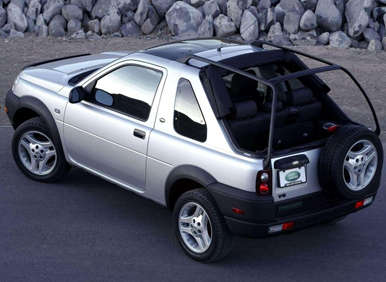 Land Rover Freelander Used SUV Buying Guide: 2004
 The S trim level was dropped, reducing the lineup to three models. An exterior update provided a redesigned front bumper and grille. The new headlamp treatment was similar to the one fitted to the Range Rover. The Freelander's bumpers were rendered in body color and its tail lamps were mounted higher.
Inside, the dashboard was reworked, the instruments got a new look, and the switchgear was updated—as was the door trim panels and the front seats. The Freelander's standard equipment list expanded to include 17-inch wheels, roof rails, tinted windows, and a six-disc CD changer.
The five-speed automatic transmission was also reworked to enable smoother shifts.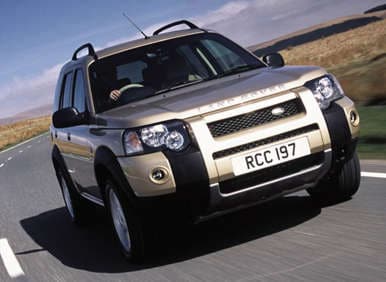 Land Rover Freelander Used SUV Buying Guide: 2005
 The HSE was dropped, however much of its content was incorporated into a premium package, which could be applied to the SE. In an effort to make the SE a more enticing proposition overall, a power sunroof and a set of front fog lights were added to its standard equipment list.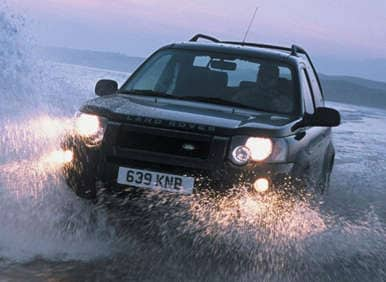 Land Rover Freelander Used SUV Buying Guide: Summary
 There's an old saying when it comes to purchasing expensive European cars (justly deserved by some more than others), whether you buy them used or whether you buy them new, one way or another you will ultimately pay the full purchase price.
Buy a new one—you'll pay right off the bat.
Buy a used one and repair costs will eventually total up to the price of a brand-new one.
Still, if you decide you like the looks of the little cute-ute, and having the ability to reply "Land Rover" when people ask you what kind of car you drive, the Land Rover Freelander is a very inexpensive way to put a Land Rover key on your key ring.
However, keeping that key on your key ring may well be another story altogether.
From the findings of our research, it appears that in the case of the Land Rover Freelander, engine problems abound. Perusing a Land Rover Freelander owner's forum will reveal literally hundreds of threads, all complaining about the same issue; coolant leaking into the oil system, which will ultimately result in rendering the engine immobile.
Now normally, this is the part of the used car review where we recommend subjecting the car of your choice to a very thorough pre-purchase inspection by a trusted professional mechanic, one familiar with the particulars of the make and model.
Here is where we'd also normally recommend running a vehicle history report against the VIN of the vehicle of your choice.
Similarly, here is where you'd also normally find our admonition to run an Internet search for the recall history of the model in question.
Normally.
But this isn't a normal situation.
When it comes to the Land Rover Freelander, we suggest skipping all of those steps and simply avoiding the model altogether. Engine swaps can easily run $10,000 or more for this vehicle. And, repairing the problems leading up to the inevitable eventual engine swap, can cost anywhere from $1000 to $2000—each.
If you absolutely have your heart set on a Freelander, at least make sure the engine swap has been performed, and be prepared to do another.