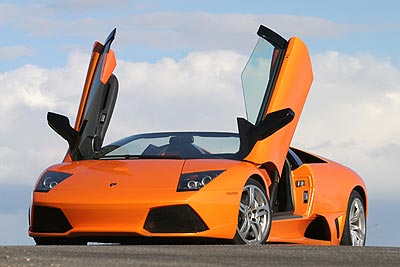 2007 Lamborghini Murcielago LP640 Roadster – Photo Gallery: The Lamborghini Murcielago LP640 is one of the fastest automobiles on the planet, with eye blink-fast acceleration and a top speed in excess of 200 mph. It is as much a feast for the sense of sight as it is for one's sense of inertia, with its sharp-edged styling as polarizing as one would expect from this bad-boy Italian automaker. Some love the combination of hard angles that make it look like an advanced origami sculpture. Others prefer the smooth flow of Ferraris. Regardless, it's hard to take a bad picture of the Murcielago.
Rear 3/4
Our Lamborghini Murcielago LP640 Roadster carried a base price of $351,700 including the $1,300 destination charge and $5,400 in gas-guzzler taxes.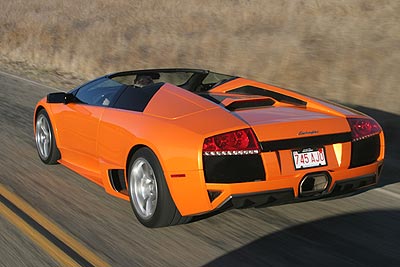 Interior
Manually adjustable front seats clad in soft, supple leather offer a simple range of movement yet offer excellent comfort and support. The trouble with the Lamborghini Murcielago is the driving position. Taller people will likely feel that the pedals are too close even with the seat all the way back against the cabin wall.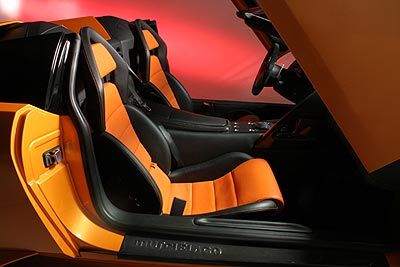 Side View
Buy the Lamborghini Murcielago LP640 Roadster for its performance, its design, or to flaunt wealth. What other reason could there possibly be for owning one?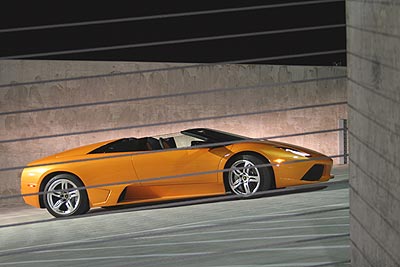 3/4 Front Beauty
Everywhere the Lamborghini Murcielago LP640 goes, attention follows. Police, pedestrians, and fellow motorists gawk at this car, and the brighter the paint color, the harder it is to pass undetected.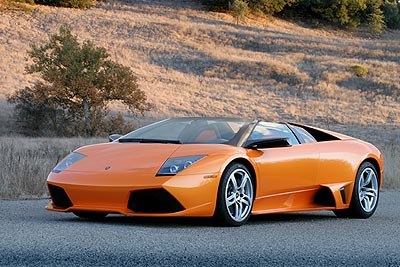 Dash
This year there's a restyled instrument panel, new gauge graphics and slightly wider seats. A Kenwood audio system with a 6.5-inch display screen is new, and a navigation system is now optional.
Instrument Panel
Our test sample included the optional carbon fiber trim, suede steering wheel, and two-tone interior décor.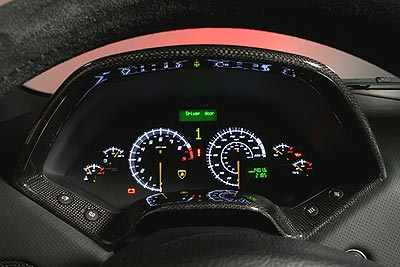 Engine Cover
Covering the powerful V-12 engine is a cover designed using sharp angular lines housing vents that allow the big powerplant to disperse heat.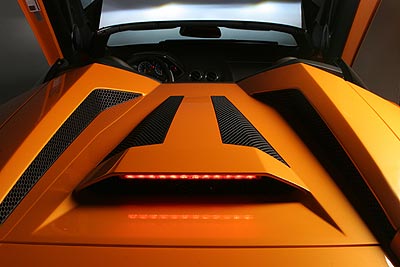 3/4 Front View
To accommodate the added power and speed, Lamborghini has beefed up the drivetrain and braking systems. The suspension is also tweaked for improved high-speed stability and handling.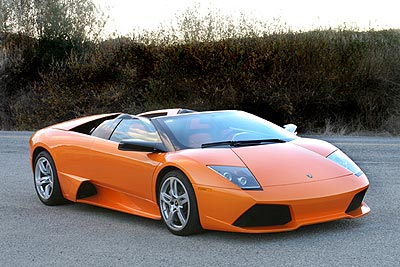 Engine
As the LP640 designation indicates, the 2007 Lamborghini Murcielago gets more firepower under its rear deck. Mounted amidships, the 6.5-liter V12 gets a bump from 580 horsepower at 7,500 rpm to 640 at eight grand as well as a little extra torque – 487 lb.-ft. at 6,000 revs from 480 at 5,400 rpm. Acceleration and top speed are both higher with the LP640: 3.4 seconds to 60 mph and a top speed of 211 mph.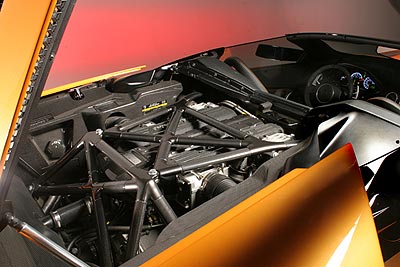 Exhaust
Dual pipes are fed to a single outlet at the rear of the LP640 that evokes thoughts of Formula 1 race cars under hard acceleration.