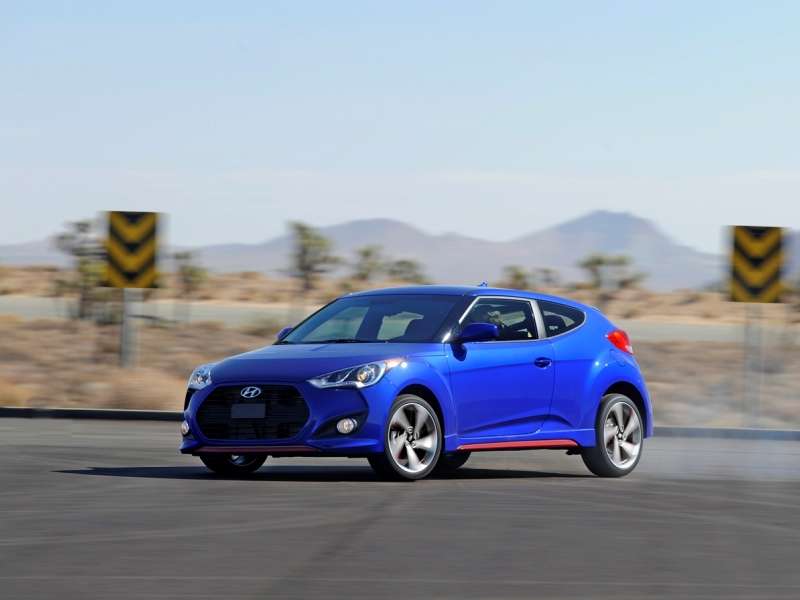 The Hyundai Veloster has been a very unique offering in the brand's lineup, acting as the 'reverse halo' model to bring people into the Hyundai family. Hyundai hopes to bring in more people with the latest addition to the Veloster lineup, the new Turbo R-Spec which debuted at the LA Auto Show today.
Hyundai is positioning the Veloster Turbo R-Spec as the model for those who want to tune their vehicle and not pay a lot of money for the privilege. The Veloster Turbo R-Spec definitely looks the part with the choice of four different colors, splitter and side sills wearing red paint, and the touches that adorn the standard Veloster Turbo such as a large front grille and center-mounted exhaust pipes. Inside, the R-Spec comes with seats that are wrapped in red leatherette and red/black cloth.
Mechanical changes for the Turbo R-Spec begin with a sport tuned suspension which includes higher-spring rates and a stiffer transmission mount. The transmission is a six-speed manual with a B&M Racing Sport Shifter. Hyundai says the Turbo R-Spec is lighter thanks to the removal of a number of items such as the heated driver's seat and proxmity key with push-button start. Hyundai hasn't specified exactly how much weight they were able to remove from the Turbo R-Spec. The only item not seeing a change is the 1.6L Turbo GDI four-cylinder. It will still produce 201 horsepower and 195 pound-feet of torque.
Hyundai says the Veloster Turbo R-Spec will be about $1,000 less than a base Veloster Turbo, which puts it around $21,100. The Veloster Turbo R-Spec arrives at dealers this January or February.
Along with the introduction of the 2014 Veloster Turbo R-Spec, Hyundai also announced some new features for the Veloster Turbo at the LA Auto Show today.
First up is the introduction of Torque Vectoring Control (TVC). The system utlizes the electronic stability control and powertrain controls to distribute power to either front wheel. This improves the Veloster's cornering ability and makes it much more stable.
Second is 'Active Sound Design' which enhances the sound from the intake and exhaust. This makes the powertrain much more sporty and enhances driving fun.
No word when the 2014 Veloster Turbo will be arriving at dealers.