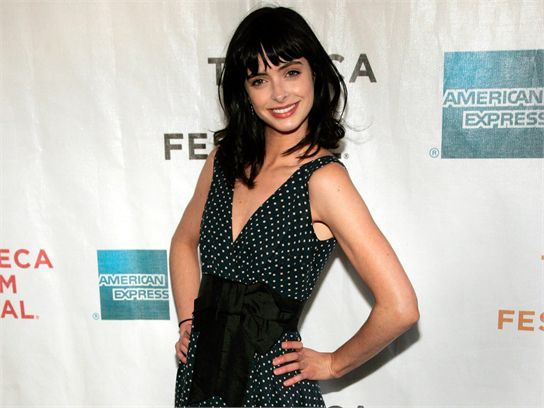 One day we woke up and actress Krysten Ritter had dropped a Autobytel With off in our mailbox, which is awesome because hot girls rarely ever email us. Actually, her publicist emailed us but roll with it, okay? Krysten got her start modeling after an agency scouted her in a mall at the age of 15. After spending a handful of years traveling around the world doing the model thing (like we know what that means), Krysten took up acting and has been stepping up her game ever since. She had reoccurring roles on the television shows Gilmore Girls and 'Til Death, and Krysten is currently on screen in What Happens in Vegas... opposite Ashton Kutcher. Next up, among other projects, Krysten has the starring role in DreamWorks SKG's now-filming She's Out of My League (we told you she's doing big things). And if starting your day or ending your night with a little indie music is your jam, check out her band, ex vivian, on MySpace. And with that, lap belts on for another Autobytel With.
My very first car that I bought with my own money when I was 16 was an '89 Dodge Shadow. It would overheat like crazy and I would have to pull over and let it cool down every 30 minutes or so. Not so convenient. On New Year's Eve I was coming back from the mall (after having bought myself presents with all the dough I had been given for my b-day and Christmas) and I ended up breaking down on the side of the road. I had to hitch a ride with a strange man that was nice enough to stop and help me. On the ride home he proceeded to make inappropriate comments to me so I had him pull over and I walked the rest of the way. Shopping bags and all. It was pretty scary. I made it to my NYE party on time and the car was towed the next day. That was the last time I drove the old Shadow. The moral of this story is you get what you pay for.
Well, I am currently in a rental car while I'm shooting a movie and it's a Nissan Altima. I actually LOVE it. It has a navigation system, which might very well be the coolest gadget ever. Sure I never know where I am, whether I'm going north or south or up or down, but that's the great thing about it! You don't have to!
Kings of Leon, Lil Wayne and Jeezy. I love thumping around to sleazy hip-hop. Something about it makes me feel like a teenager.
I'm still deciding what I should get. I definitely want to get a hybrid but everyone and their mother is driving the Prius. I need something new I think, I hate worrying about breaking down, and given my history I worry about it all the time. I would love a little hybrid pickup truck. Is that even cool? That's the farm girl in me I guess.
Ok so I would definitely want a brand new black on black Mercedes SL600 and I would road trip to Vegas in all its fabulousity with my best friend Susan. I think we would want to bring along a few funny boys to entertain us as well. Maybe Will Ferrell, Seth Rogen, Vince Vaughn. How many can we fit in the back? HA … I would also be lying if I didn't admit that I picture myself in a Ferrari someday. Ahhhh wouldn't that be fun.
After an experience like that we would have ditched the '89 Shadow too. In case you were wondering, an '89 Shadow sells today for about $800. Our gut says buying one still isn't a good idea (our gut also tells us to stay away from strange men picking up teenage girls). If you like the Nissan Altima, they make a hybrid version, and a hybrid pickup truck? Not as crazy as it seems. If eventual life plans put you back on the farm, you might want to check out the Toyota A-Bat Concept. Finally, we're right there with you on the black on black SL600, a sick choice. As to how many boys you can fit in back? Let's just say Seth Rogen (5'11"), Will Ferrell (6'3"), and Vince Vaughn (6'5") might be better off meeting you in Vegas. Best of luck and keep rolling with Autobytel.
By Staff Photos courtesy of Autobytel.com, SplashNews.com