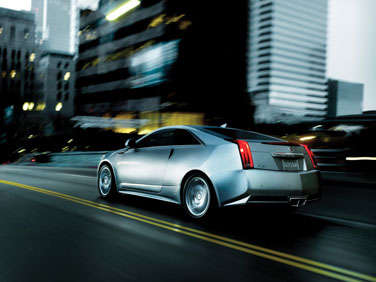 There's not much doubt that the 2011 Cadillac CTS—especially in its high-performance V Series configurations—has become a true competitor to rivals from the likes of BMW, Mercedes and Audi. Thus, you could view the car as proof that today's mainstream automakers do have what it takes to build a vehicle that is literally among the best in the world even in a relatively premium segment. The problem is, when you step back and look at Cadillac as a whole—or any of the mainstreamer's luxe brands—you find that what these high-volume makers can't do is build a full division that is literally among the best in the world.
And that, plus my recent ruminations on Acura, have me wondering if it's time for some of them to stop trying.
Consider: It's now been nearly 10 years since the CTS debuted as the first fruit of a billion-dollar-plus investment by GM to turn around the brand, and since that time the number of other Cadillac vehicles that have achieved the CTS' level of success and acceptance as one of the world's premiere vehicles is exactly 0. The Cadillac SRX has seen strong sales numbers since its redesign for the 2010 model year, but even regardless of the fact that it doesn't match up well against the Germans in terms of size/price/content, premium crossovers remain an afterthought for much of the automotive elite and Cadillac simply isn't going to be able to gain much cred with a crossover as one of its flagships.
On the other hand, it's not just Cadillac that's in this position. Except for the CTS and a small handful of supercars like the Acura NSX and today's Lexus LFA, I can't think of a single product from the wanna-be crowd—that is, the premium brands from today's mainstream automakers: Acura, Cadillac, Infiniti, Lincoln and Lexus—that has become a premium icon the way German vehicles from the BMW 3 Series to the Audi R8 have. And this despite the untold billions of dollars and thousands of man-hours that must have been poured into these brands by their automakers.
That hasn't stopped brands like Lexus from gaining their fair share of the market, though—oh, wait a minute, it actually has. While Toyota's premium brand scored 229,329 sales in 2010, all of the other four names I just mentioned above failed to crack the 150,000-customer mark. Meanwhile, BMW and Mercedes finished with 220,113 and 225,007 sales, respectively, last year, with Audi garnering 101,629 sales of its own as it continues its long road back from irrelevancy.
So we can give Lexus the benefit of the doubt here, and it's also worth pointing out that neither Acura nor Infiniti seem to be taking aim at becoming "real" luxury players. Acura is more of a Buick-type operation, explicitly aiming for near-luxury buyers, and it's obvious that Infiniti makes no pretensions to being the Standard of the World.
Like most things in this world, it's all about the money in the upper reaches of the premium segments, and I'm not just talking about MSRPs. I'm also referring to the money it takes to develop a full family of world-class vehicles, money that GM and Ford often have to use to support products from their non-luxe brands instead. As a result, GM CEO Dan Akerson already has admitted that the next two Cadillac vehicles will not be "world beaters," and Ford is still spinning its wheels with Lincoln. Recent rumors have the next Lincoln MKZ on hold as designers try to differentiate it further from its Ford Fusion counterpart; with so much riding on the car, and so much ongoing criticism about the general lack of differentiation between Lincoln and Ford products, I can't believe this is still a problem.
And despite the occasional uptick in their fortunes, Cadillac and Lincoln have been in this kind of rebuilding mode for decades, and there's absolutely no reason to believe anything will be different this time around.
Now, I'm not saying it's time to entirely eliminate the brands, but maybe it is time to accept the harsh reality that neither GM nor Ford has the resources to develop a full lineup of "world beaters," and that's what it takes to be considered a full-on luxury brand.
With the Ford division and Chevrolet both upping their game in recent years, I'm thinking that somehow integrating just the very best Cadillacs and Lincolns into a larger retail context—and cutting loose the deadwood—would help both GM and FoMoCo find larger profits.