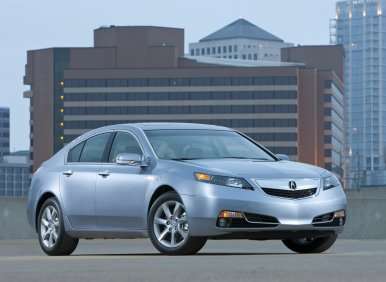 When the folks at Honda were preparing to launch the refreshed 2012 Acura TL earlier this year, they were likely thinking it would be the end of their run of bad luck/bad decisions. The current generation TL had been introduced in 2009 to very positive reviews for almost everything except its awkward styling, and its SH-AWD (Super-Handling All-Wheel Drive) technology really stood out for its ability to nearly overcome the car's performance-sapping front-wheel-drive bias. Not only did the 2012 model rectify most of the styling problems with a much improved grille, but it also showcased a sequential "SportShift" six-speed autobox that looked to be among the industry's top units.
The new transmission leverages some nice Honda technology to allow rev-matching functionality and the ability to skip a cog when down-shifting; it also helped deliver a notable improvement in fuel efficiency, moving the TL from an EPA line of 18 mpg city/26 mpg highway/21 mpg combined to marks of 20/29/23.
The result is certainly a nice all-around package, with an MSRP of $35,605 for the base FWD model and sticker price of $41,535 for the TL "Advance" I recently drove for a week, courtesy of our friends at Acura, who also spotted me a full tank of gas.
But is it nice enough to make a difference for Acura's (and Honda's) reputation in the U.S.? Let's take a look.
Much like the original Insight, the groundbreaking hybrid that was the first vehicle of its kind to go on sale in North America, the Acura brand represents a pioneering idea on which Honda still hasn't been able to capitalize. Despite a head start as the first Japanese premium brand to make an impact in the U.S., beating Lexus and Infiniti to the market by a couple of years, Acura has struggled to find its way in this country, primarily as a result of its incoherent product plans. For example, the division went from a brand that bore the amazing NSX supercar as its halo vehicle to one that now earns most of its sales with the Acura MDX crossover.
Acura no longer even tries to compete with Lexus, and its products don't match up very well with the Infiniti roster anymore either. Consider the tale of the tape between the Infiniti G37 and the TL: The base G37 offers significantly more hp, an extra gear in its automatic transmission, rear-wheel drive instead of FWD and a price tag that is a bare $195 more than the starter TL.
Perhaps most damning, at least symbolically, is the fact that Acura doesn't offer a hybrid vehicle of any kind. The situation seems more than a little odd for a brand that is an extension of Honda, which, in turn, makes much of its positioning as a fuel-efficiency leader and has recently introduced three all-new hybrids (the current Honda Insight, Honda CR-Z and all-new Honda Civic hybrid). Of course, that brings up the vital question of how much synergy does/should exist between the two.
If you go by recent industry trends, the answer has to be "no," and I'll point to two of today's more successful automakers—Ford and Hyundai—to back me up. At the Blue Oval, the increasingly up-level positioning of vehicles from the Ford division has helped make up for Lincoln's dire straits on the sales charts, showing that some not-insignficant chunk of customers is ready to judge a vehicle's level of luxury based on the vehicle itself, instead of the name on the vehicle. The same thing is happening at Hyundai, which has introduced premium products like the Hyundai Genesis and, especially, the Hyundai Equus while so far avoiding the temptation to spin off its own pure luxury brand.
Bringing brands like Lexus, Infiniti, Buick and Cadillac into the picture, you start seeing how hard it is for a full-line automaker to compete against premium brands that focus solely on premium vehicles. None of those four brands has been able to develop a consistent lineup of products that can go toe-to-toe with the likes of BMW, Mercedes or Audi, and at this stage, I'm going to chalk the problem up to a lack of resources. Particularly in today's economic environment, companies like Toyota, Nissan and GM simply don't have the financial resources to fully commit to supporting stand-alone luxury brands. All of these brands offer some highly desirable vehicles, but all of them have their share of clunkers, too.
Which sort of brings us back to the TL.
No, the TL isn't a clunker, but it does represent an extreme example of how a lack of resources can hold even a good vehicle back. As I mentioned at the top of this story, the TL was riding some fair momentum coming off of 2010, when it managed to increase sales by 7.2 percent in December and eke out a 1.9 percent bump for the year as a whole. Everything should have been set to build on that foundation with the new model, but the refreshed TL went on sale on March 18—just a week after the deadly earthquake and tsunami in Japan—and has received next to zero support after that, since Honda has had other, bigger problems to deal with, including providing support for the all-new Civic.
Today's bottom line: Honda was the first of the Japanese Big Three to launch a luxe brand, maybe it should be the first to drop one, too.