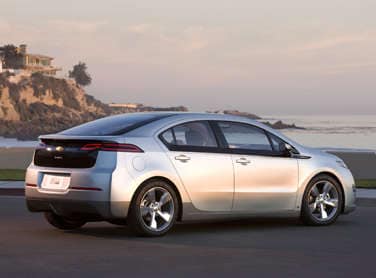 The friendly folks at the Bow-tie brand were kind enough to let me have some quality time with the Chevrolet Volt, and, as is always the case in these situations, they made sure the vehicle had a full tank of gas when it got here—not that I I've needed it. Four days into my week-long Volt experience, I've driven roughly 103 miles and used exactly zero gallons of gas. And note that this included going 38 miles on one charge when I took the family down to Comerica Park to see the Detroit Tigers in action.
Needless to say, I think GM is onto something here.
Quite a few people have talked to me about the Volt in my travels so far, and invariably, the first thing I'm asked is how much does the vehicle cost. And in the case of the model I'm driving, the answer is an eye-opening $43,485. But that does include $720 worth of destination charges and $2,485 worth of options, so the starting point is actually $40,280. Further, that MSRP will fall to $39,995 on the 2012 model, which, however, features a bit less content and a $130 higher destination fee.
Now, there is really no way the Volt could be a success at that price point, but this is where the $7,500 federal tax credit comes in. When you factor in that hefty subsidy, the 2012 car's net MSRP to consumers will come to $32,495, while even my optioned-up model is "only" $35,985. Still seem like a lot of money? Well, keep in mind another one of my ongoing concerns about the industry: Rising transaction costs, particularly at Ford and Chevrolet. As I've detailed in the past, those two brands have been moving into some relatively premium areas with their latest offerings, and it's gotten to the point where Chevy helped push GM's transaction prices up to nearly $34,000 in May.
Thus, in a cockeyed sort of way, you could conceivably say a new Volt is essentially an average-priced GM product, and in that context, the price tag on the car doesn't look so out of place.
In fact, the Volt is in many ways the epitome of the new small-car strategy that not only Chevy and Ford, but the entire industry is working to implement. Whereas in the past, the size of the vehicle and its content and quality went hand in hand, today's automakers are trying to get drivers to downsize their rides by offering the same kind of relatively premium content levels in their small cars that they do anywhere else in their lineup.
So the Volt comes with an up-level Bose sound system, touch-screen navigation, push-button start, Bluetooth compatibility, an auto-dimming rearview mirror, and an array of esthetically pleasing interior materials, and that's in addition to its high-tech powertrain and unique touch-sensitive center-stack controls. The car's design is very strong, too. It's especially worth noting that while Chevy designers used the same rough template for aerodynamic efficiency introduced by the Toyota Prius, with a long sloping rear hatch, the Volt retains a highly distinctive appearance, unlike, say, the Honda Insight.
The cabin is a nice piece of work as well, and it showcases design elements, materials, and fit and finish that are definitely worthy of a vehicle priced in the mid-30's. The only caveat is that the Volt only holds four, since it has bucket seats in the rear; on the other hand, this does ensure that back-seat passengers have plenty of room.
Another common reaction to the Volt is for people to try to figure out if they'll save enough money on gas to make its higher MSRP "worth" paying. Of course, if you've read this column often enough, you'll know that I consider that issue to be kind of a red herring. The vast majority of shoppers don't use that equation when trying to determine between two gas-only cars; that is, they don't say, "I'm not going to buy car A because it's $1,000 more than car B and I won't save enough gas in the former to somehow make up for the price difference," and it shouldn't be a large consideration when looking at the Volt.
That being said, if you're generally driving about 30 miles a day, you could legitimately go weeks between fill-ups in the Volt, slicing visits to the gas station from once a week to once a month or less. And with the price of a similarly Ford Focus Titanium up around $28 large, making your money back in four to five years isn't out of the question at all.
With today's lack of public charging points, an all-electric car like the Nissan Leaf simply will not work for many drivers. Although I haven't in the past couple days, I will more than occasionally drive over 73 miles at a time, at which point I'd be out of luck—and electricity—in the Nissan. In the Volt, though, the car's gas-powered generator kicks in for a few hundred more miles of range.
This all doesn't make the Volt a perfect car, but at this stage in the game, I'd say it offers the most compelling available package for drivers who want to get serious at saving fuel.