Kia Track'ster is a Stand-Out Performance Concept that Captures Hearts and is Performance Enthusiasts' Dream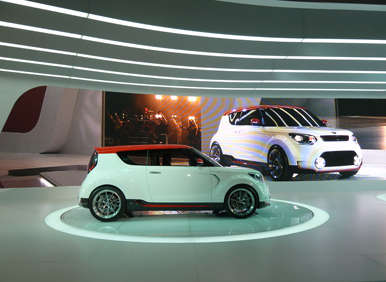 This is one concept that won't be overlooked amongst the 1,000 new cars and trucks on display at the 2012 Chicago Auto Show! Even if Chicago's band Hairbanger's Ball isn't rockin' out as it takes its place onstage with smoke and flashing lights at the Kia booth during its world debut, the high-performance Track'ster is sure to be a stand-out during the 10 days that the show is open to the public. Based on Kia's best-selling Soul, the 3-door, high-performance compact is endowed with a turbo-charged 250 hp., all-wheel drive powerplant and an eye-popping Whiteout and racing-inspired orange Inferno paint scheme.
"It's built from the dreams of our California design studio," said Tom Loveless, Kia's vice president of sales, who boasted about this Korean car company's success in the U.S. market. Kia posted its 17th straight month of sales gains and is now the fastest-growing brand and also was the 2011 Grand-Am champ. Loveless said Kia will continue to focus on racing, the fourth-largest sport in the U.S.
The low-slung, stretched-wheelbased Track'ster has been penned to conjure an image of a "wild boar wearing a backpack". Up front Kia's signature grille sits above an outsized air intake that is trimmed in carbon fiber and flanked by large LEDs. Swept-back integrated headlamps stretch toward to the sculpted front-wheel enclosures; the wheels are wrapped in 245/40-19-inch front rubber while the rear rides on 285/35-19 high performance tires that can be stopped by Brembo vented and cross-drilled brakes.
Inside are Inferno Orange suede-covered racing seats, granite-gray leather and suede trim; an open back end is crafted with an equipment tray for tools, paneled bins to store racing gear, and spare tire well.